After a lot of work, I'm proud to present the latest installment of the Volumetric mod, ver 1.13, which adds a whole bunch of new stuff, and a new mini-mod for those who own the Entrenchment expansion, the Dynamic Battle System, which will also feature in the Last Stand mod itself.
First things first:
Volumetric Explosions& Damage Effects v1.13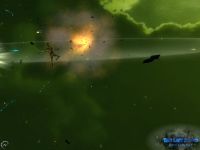 The latest version brings the mod up to date with the newest versions of both the vanilla game and the new mini-expansion released by Ironclad, Entrenchment.
New features include Starbase and mine explosions, an optimized fragmentation system which looks better than the old one at half the polygon cost, Dynamic Battle System optimized particle effects which simulate smoke trails as best as it can be done without going overboard on particle count and last, but certainly not least, Carnage in Space addon, a system which brings a lot (in my opinion) to the warfare feel of the game by adding bodies of crewmembers being expelled from stricken and exploding ships.
Available for download in the downloads section.
Dynamic Battle System

Taking advantage of the new modding features introduced by Ironclad in the Entrenchment expansion, the DBS changes the way ships behave and interact with each other. Instead of the classic static battles, with rigid lines of ships pounding away at each other, the Dynamic Battle System enables most types of small and medium ships to move freely about the field of battle.
The effects are sometimes obvious, like the insane chaos that erupts when two large fleets collide, but there are also subtle ones. This mod takes away the focus from moment-by-moment micromanagement, because once the serious stuff starts going down, you can forget about making heads or tails out of *that* furball. Instead, importance is placed on battle preparation. Significantly different results can be achieved by a commander which takes time to organize fire groups, plan the vectors of attack, order of appearance in the theatre of war, prioritize targets etc. than by a commander which just throws a bunch of ships in a fight (not that its not fun to watch).
Fleet cohesion now plays a big role in a first strike. Engaging fleets quickly lose their coherence, and thus also lose the ability to effectively place a lot of firepower into action on focused targets. By having auxiliary attack groups jumping in after the battle has been joined, or specialized fire groups which can be commanded to focus on a particular target, a commander can achieve victory even with inferior numbers.
The mod is simple in execution, but opens up a lot of possibilities that were previously irrelevant with static fleets.
Also available for download in the downloads section. Entrenchment 1.02 required.
Anyway, this much from me for now, hope you enjoy the mods!