Space catapults. You got to love them.
Face it, nothing instills fear in the heart of an army commander as seeing a big, lumbering device of total destruction being dragged into a firing position. Over time, names have changed, but the idea remained the same - to drop something big, heavy and possibly explosive on the other guy's head.
The Last Stand mod follows this fine tradition of warfare by giving each new faction a specialized capital ship which has only one role - to deal massive damage at extreme range. And as these things go, they are also made of glass, at least compared to the hulking battleships on the front line.
For the Xin, the ship in question is the Sovereign.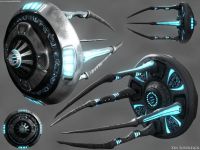 Much like other Xin capitals, the Sovereign is immense in size. In fact, these ships are so large they have been known to get stuck in denser asteroid fields at times, though certainly not for long - one discharge of its powerful weapon is usually enough to clear any such paltry obstacle as a floating rock!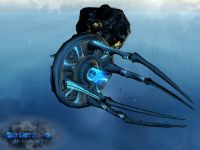 A Sovereign carefully navigating between large asteroids.
The spindly projection spires are especially vulnerable to damage.
And while the Sovereign is a powerful ship when used correctly, care must be taken not to place it in situations where its weaknesses, most notably the lack of strong shields and less-that-average armor plating, can be exploited. Also, to fire its main weapon, the Sovereign must not only align itself with its target, which makes it incapable of tracking and targeting smaller and nimbler ships, but it also has to expend a significant amount of its internal power reserves. Stock ships are estimated to have enough power to fire only five or six shots before their weapon capacitors need recharging.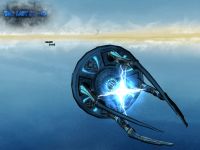 The projection spires trailing behind the ship are used to shape the plasma charge.

To compensate for these shortcomings, the Sovereign has a couple of unique abilities at its disposal. The first is inherent to the interconnected power systems which run throughout the bioform superstructure of the ship, and that's the ability to actually drain its shields and use so gathered energy to fire several extra shots of the main weapon. Needless to say, this ability is best used with caution.
The second, more exotic ability is something only mature ships possess, and that's the bioform's ability to utilize the gravitic nature of its Singularity Engine to produce a gravitonic shockwave effect. The shochwave does negligible damage but is capable of repulsing smaller ships and objects away from the Sovereign, thus perhaps giving it time to escape being swarmed by enemies it normally cannot engage.