Few things project the power of the Xin Domains as a Citadel orbiting a subjugated world. Created to both dominate the sector but also provide valuable logistical support to the Xin fleets in the entire system, Citadels are tough, big and deadly.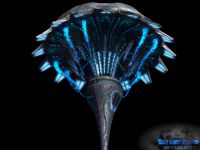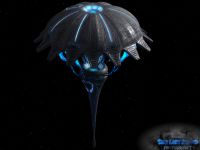 The relatively soft "underside" of a Xin Citadel is protected
by a thick layer of metal-organic armor on the upper side of the dome.
The underside is also protected by a powerful array of shield emitters.
While a Titan will always be the weapon of choice when its time to take the war to the enemy with decisiveness, building a Citadel does the same thing when its time to dig in and protect one's holdings among the stars. Protected by thick armor and powerful shields, and armed with a host of specialized heavy attack drones as well as with a superweapon of its own, a Citadel presence will make it hard for any but the most determined attack force to breach the sector defences. Its most powerful armament is the Plasma Accretion Launcher, an enormous device on the top of its massive dome capable of projecting charged plasma directly from its massive reactor, cocooning it in an unstable magnetic capsule and then launching it at the attacking fleets with devastating effects. Not only are the chances of survival for anything smaller than a Titan that gets hit by this weapon slim, but the resulting shockwave often scatters approaching formations adding disarray to damage.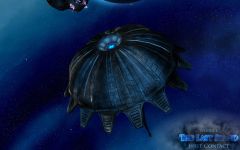 The Plasma Accretion Launcher can be seen in the depression on the top of the Citadel
But the most useful quality of any Citadel is its logistical support it gives to the fleets, both those present in the gravity well and those scattered throughout the entire system. For the Xin, this is evident in the massive Wormhole Slipstream fins which house mechanisms necessary to augment the already existing Wormhole Stabilizers which form the network of Xin-only travel routes linking their systems together. A Citadel can thus transform any system into a nexus of hyper fluent travel routes, enabling support fleets or reinforcements to show up on literally a moment's notice from any adjacent gravity well, turning the otherwise slow Xin war machine into a lighting-fast juggernaut few can truly surprise.
And finally, a development video showcasing the Z-Brush phase, that is texturing and detailing of the model: