Update 02/28/2011:
Optimizing The map and removing code I don't need...
Update 03/01/2011:
Our mod gets our first official news thread from "CJ Miozzi" at Gamefront!
Update 03/02/2011:
I'm pulling a late niter tonight since I slept earlier today. Ever since I started working on the population simulation code I've entered a point of no return. Meaning that I can't test or play the mod until I'm sure that I have Faith, Health, and anything else glued to it working. I'm planning on being able to test this new code in two days. If I can do that then I can go ahead and set up tax via population and impacts on population based on certain things you do in-game. I'm going to even make it so that the population will effect auto-garrisons (Reinforcements) for both the player and the AI too.
LOG 1:
Early Test Images
Img141.imageshack.us
Img813.imageshack.us
Img839.imageshack.us
Img12.imageshack.us
Img560.imageshack.us
Img560.imageshack.us
Img198.imageshack.us
I'm making some huge progress here! I'm so excited!!! :D
Update 03/03/2011:
The background workings of the mod have been overhauled for the next release. Imagine if SOD and Diplomacy had a baby... No, TWO babies, (and there twins), well that's what this mod is... 2 twins making outstanding things happen, also one baby knows some Chinese by the way.
LOG1: I'm glad that everyone has been so patient, I'm almost done fully porting the population system code. With the extra time I've been using I've been able to balance out and fix weapons and armors for the game. A lot of the weapons are still unbalanced and do too much damage. I have gotten better at making the speeds realistic too. So far I've been able to make a lot of custom scripts to work in conjunction with the population system, like the auto-garrisons for instance. Any time a garrison leaves a village to reinforce a town or a castle the number of population will drop also. Population also effects tax as before but this time the population is added as more of a bonus to diplomacy's tax system.
Update 03/04/2011:
Population Effects Diagram| Legend:Blue = Done//Red = Unfinished//Green = Developing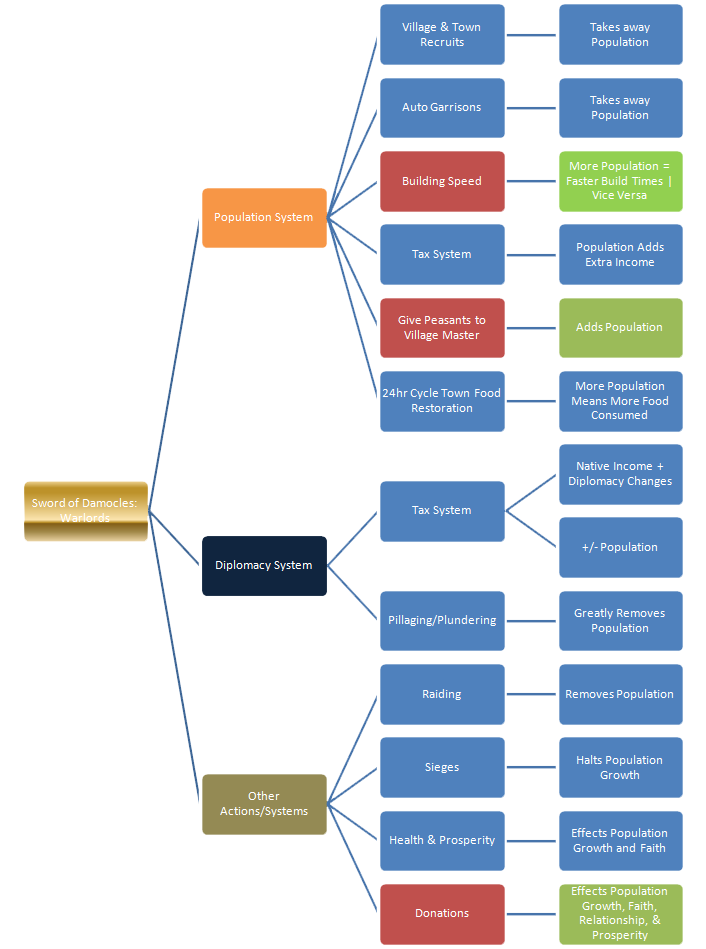 LOG1:
Porting SOD is a real challenge for me. I know if I work hard and be careful the game will turn out outstanding. Right now I'm importing what I can and adding the new buildings. Buildings will have an even greater purpose now and some of them will have special benefits. There will be a lot more things this time around so some buildings will require that you have another building built. Trust me it'll be worth it.I want the game to require more strategy and thinking from now on.
The AI and the player now get similar benefits. Like when the player sieges a castle or a town he gets a renown bonus. Now the same will happen for the AI with or without the players involvement. So in this way, and a bunch of other ways, the AI will develop just like the player does.