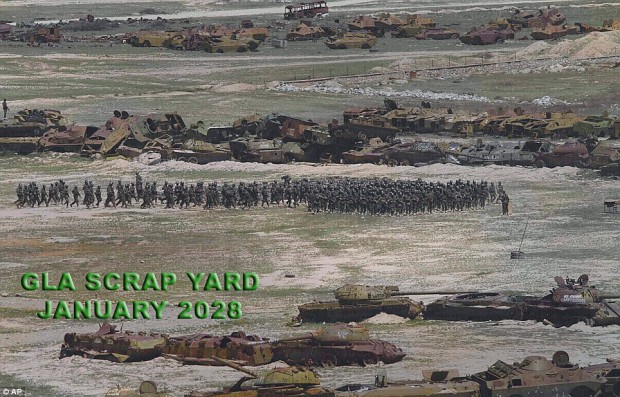 Hidden GLA Scrap Yard, January 2028
The entire troop lead by General Mohmar "Deathstrike" had gathered in the field to strategize and get orders.
One of the GLA Officer find General Mohmar "Deathstrike" which will develop strategies with the other GLA leaders.
"General, we have a serious threat!" said the officer
"What Officer?" said General Mohmar "Deathstrike seriously.
"Our Spy have seen some American Chinooks landed their troops in a nearby town, and now they convoy to make a base in the desert." said the officer.
"Well, we are preparing to attack them" Said General Mohmar "Deathstrike" firmly.
General Mohmar "Deathstrike" moving up to a wreck of a tank, to give a speech to all soldiers.
"Our Soldiers! We have the same fate, we've destroyed by the Americans. and Chinese, we managed to kick one of them back to their home country, now they are back to take back our rights! Our land! Are we going to give up? NOT! We will attack them and defend ourselves! we all have free will! " Said General Mohmar "Deathstrike" out loud.

"WE WILL FOLLOW YOU,GENERAL!"

Shouts

entire army

.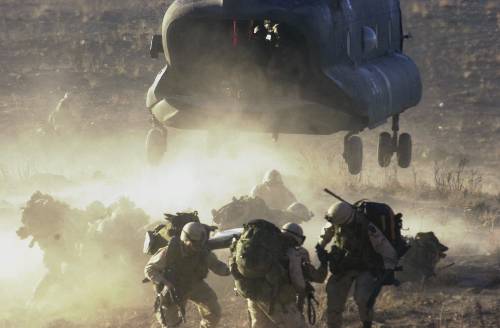 Meanwhile in the nearby City ,

some

American troops

had been

taken down and

move on

to the

Humvee

.
1 Hour Later in the desert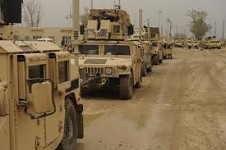 USA Convoy is on the way to the new base location

All GLA Soldiers hiding in the streets.
"There they are, General!" Said one army.
"Well, Preparing ... Attack!" Said General Mohmar Deathstrike from radio.
"What is this?" Said one ranger.
"It's GLA​​! Defend the convoy!" Convoy leader said.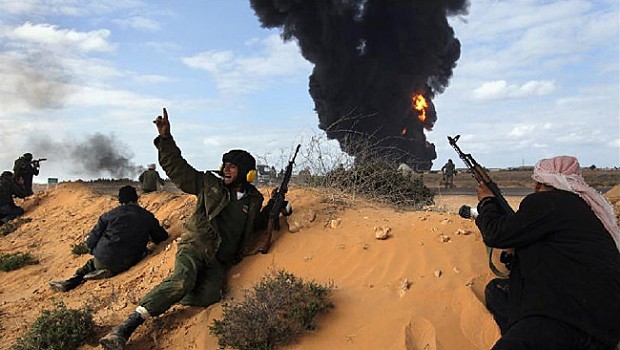 Not balanced number of troops made that convoys defeated, half of the convoy fled back to the city.
"WE ARE VICTORIOUS!" shouted one rebel.
"FREEDOM!" shouted the other troops.
"General, I know they'll come back" said the officer.
"I know that, yesterday they thought We had been defeated by China, now they know that We have returned" Said General Mohmar "Deathstrike".
"What should we do now, sir?" Asked the officer.
"We've got a lot of work now! Built several tanks and a fleet of technicals and do not forget we need anti-tank guns to defeat their tanks." Said General Mohmar "Deathstrike".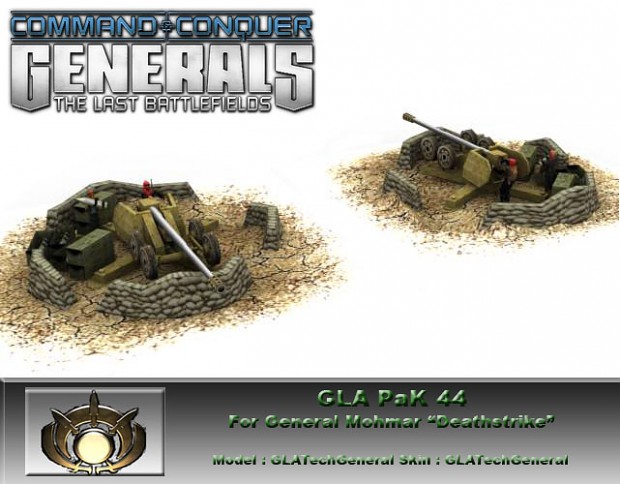 PaK 44 Anti-Tank Gun give The GLA more defense against tanks
Now
,
GLA
is
uprising
...
telling the world
that
they have not
defeated
and have the power
to defeat
the enemy forces
.
Please Join our facebook group : Facebook.com