Working on Star Wars: The New Era always had its ups and downs. Sometimes, we were amazed by the sheer quality that our artists delivered, sometimes we had to surpass extensive breaks due to the lack of coders. Motivation grew and faded with the actual progress on the mod, while the original target release date in 2008 couldn't be kept due to large technical difficulties. What followed was a period of patching and trying out new ways, which eventually led us to a working version of the mod.
Undesired intermission
The enthusiasm wasn't kept for long though, since we found out that we didn't meet our own expectations, which used to be very high at Invision Games. The gameplay prototype just didn't feel like it was enough to provide a long-term motivation to play the game. As a result, a difficult decision was made by the team: We did a full reboot of the project, which included a new gameplay concept and an entirely new codebase, which was provided by Valve's new SDK template. The only problem: The new concept required even more extensive coding capabilities, which was exactly where we were lacking.
In fact, this situation resulted in a large break from development that took almost a year and TNE fell into a slumber. At this point, several of our team members lost the confidence that the project might get back up on its feet.
The reboot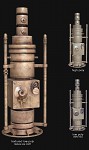 Sometimes, you're lucky when you expect it the least. At Invision Games, we thankfully experienced this kind of luck. In August this year, we started experiencing some unexpected interest in our project with several new additions to our team. Øystein 'Maestro' Dale from Norway joined the team as lead programmer with Igor 'sayon' Jirkov from Russia and Cyrus 'bigfoot' Lyons from the UK supporting him. On the artist front, Patrick 'Watchtower' Rourk, Gaybacon (both from the US), Morgoth (Netherlands) and TheDee (Estonia) breathed some fresh air into the project with new ideas and creativity.
And so, TNE picked up pace again quickly, which also led to retired team members gaining interest again and joining back active development. Since October, we've experienced a productivity that we've never achieved before. With over 300 updates in this period, the game is growing as quickly as never before. We have now established weekly developer meetings and test sessions for our first alpha builds.
In order to reflect our entire reboot, we also overhauled our entire website. Our new media section contains a selection of screenshots, videos and music pieces composed for our projects. Yes, projects! We currently have another project in development and picked up a new separate developer squad from the German game design university MD.H in Düsseldorf. Unfortunately, we cannot disclose the nature of this project yet, but we promise that it's gonna be a surprise!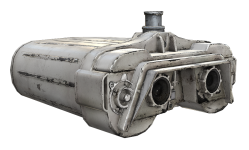 At last, I would like to thank all of you guys who have had faith in us. We're happy to announce that we'll open up closed beta tests in the near future, so stay tuned for more information to come!