Hi, last week I got a bit sidetracked by writer's block, freelance work, personal problems, etc, but I'm back on track now. I have a report of the stuff I've been working on and a to-do list of some of the stuff I'll be getting my hands into in the next weeks.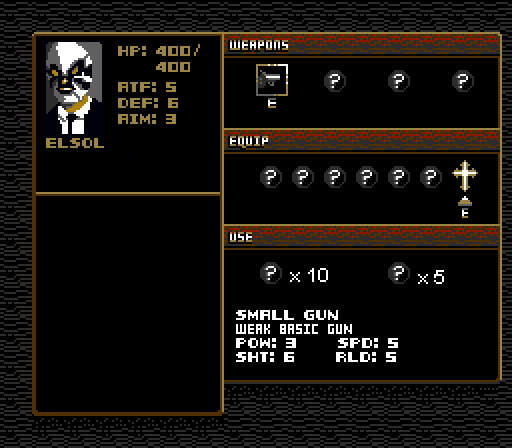 INVENTORY
Most NES RPG's had word lists to manage inventory, but Me and myself, like the sun and the moon will have an icon based inventory, which looks better and is easier to access.
There are 3 kind of items:
Weapons: There are 4 different weapons, each has its pros and cons. Weapons have 4 different attributes. POW (Power), SPD (Speed), SHT (Shots), RLD (Reload Time)
Equipable items: You can only equip one at a time. Some can be used only in battle and others only on the field. Some are automatic, but most are activated with the A button.
Usable items. You can have several of each kind and they can only be used from the menu. They are mostly healing items.
BITMAP FONTS
On the game demo I was using the Arial font to display text, this is not very good for several reasons, but I'm gonna use bitmap fonts now (thanks to a great Multimedia Fusion Extension I just found called Surface -made by Looki- ). Bitmap fonts will allow me to have smaller text that's still legible, you can see a sample on the inventory screen above. That "I" is just 3×5 pixels!
COMING NEXT…
This is a small to-do list of the things I'm gonna work on next and I'll talk to you about it next week:
- Shop
- New gun reload system
- Monetary system
Cheers! Thanks for reading!