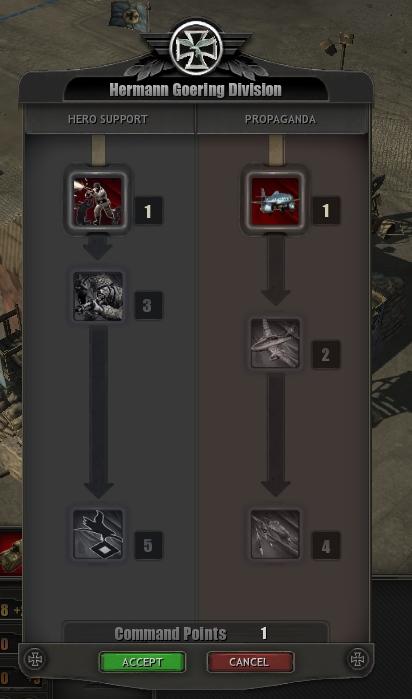 Images of Hermann Goering troops can be found within the images section, though they are not necessarily complete.
Now then, on to the Division. Generally speaking, this Division is flashy. The white uniforms its Grenadiers wear, in imitation of their leader, announce their presence on the field. One might wonder why anyone would want to be noticed on a battlefield. In this case, the reason is that the Division is trying to distract enemies. Hermann Goering troops are excellent marksmen, though they are easier to gun down than other German troops. However, with a variety of abilities, the Hermann Goering Division can stall enemies for long periods of time and inflict heavy casualties, while also sending Fallschirmjager saboteurs behind enemy lines to wreak havoc.
Anyway, here are the actual abilities for the Hermann Goering Division. Bear in mind that they all cost fuel.
The first ability on the left side is Hermann Goering reinforcement. This summons a unit of Hermann Goering Grenadiers to the field for 10 fuel. These 6 man units are excellent at long range. They are armed with FG-42s, which are essentially "long range machine guns". It is therefore possible for them to suppress enemy infantry and hold them at a distance.
The second ability is dropping Fallschirmjagers. Parachuting from the sky, these men are experts at close combat and sabotage. They can be dropped behind suppressed enemies to deliver a killing blow, or told to place explosive charges on key enemy structures while their enemies are busy fighting tooth and nail against the Hermann Goering Grenadiers. It does cost 20 fuel to drop them, but their skills and freedom of movement make the cost worth accepting.
The third ability allows Hermann Goering Division commanders to drop Reich's Guard Fallschirmjagers. Like the Hermann Goering Grenadiers, these men proudly wear white. Even more deadly at range than their lesser cousins, these are the most elite troops that can be fielded by a Hermann Goering Division. They are more vulnerable to enemy fire then other Reich's Guard, but they are guaranteed to attract any enemy's attention. Only 2 of these 5 man units can deployed at a time, and it costs 50 fuel for each one requisitioned.
On the right side are the Hermann Goering Division's air support options. First is an ME-262 recon flyover (10 fuel), the next is an ME-262 strafing run (20 fuel), and finally, a commander can access a devastating strike from a fighter-bomber adaptation of the ME-262.
As one can see, this Division is all about dealing terrible, terrible damage to the Reich's enemies. However, it cannot advance easily due to the fragility of its squads. It must therefore stay at range, and keep the enemy occupied while the more powerful and less conspicuous forces of the Wehrmacht make their move.
Before ending this news article, I feel it would be wise to let you all know that Wird has joined the team as a modeler. I expect you to treat him with the same respect with which you have treated me. Actually, he deserves more, because his work will most likely insure that the E-series panzers will be included in this mod. I'll keep you guessing about which ones, but I will confirm that the Panzer Elite will be released with E-series panzers available to its commanders.
I think it is also fair to announce that I am working on a map located in the U.S. of A., and will eventually move on to doing ones for Britain. They won't contain any recognizable landmarks (though this may eventually change), but I thought I might as well mention it to give you some idea of where this mod is heading.
So, lets have a round of applause for Wird, and I'll see you again next update.
With regards,
Lord Wiffleby