First of all!
We keep working hard on Greedy Guns our own run and gun exploration game. Go check out our new Greenlight page! Please! Help us get our game on Steam! :D
Meet Kate
We wanted a female character since day one but we started with just one so it would be easier to get the game running with a fully drawn and animated character. The 3 first examples were drawn before we actually had any character in the game. It became obvious (drawing number 4) that we needed Kate to be as wide as muscular Bob, in order to share his skeleton and animations.

But how do we make her wide shouldered without looking strange? Robotic arms that's how! Now she can have these big shoulders like Bob and still look agile.

Now that we have a body type the next question is what kind of hair does she rock? Help us choose in the comments bellow. What do you like best?

Updates in Motion
Like promised here's more of Greedy Guns in motion!
We love some particles. This one if for the games' store. Yes really. You'll see how as soon as we implement it ;)
Just cool stuff. Cause we are in the business of cool right?
That's It For Now!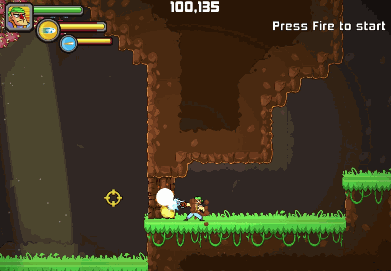 Don't forget to go and vote on our Steam Greenlight page! Also you should add us to your favorite social networks 'cause we are cool cats. ;) See you soon!