So today marks the final day of Loot Nubs deelopment. It's been quite a journey for all of us on our team, and a lot of time sunk into it. On wednesday we had a showcase where we showed off our game to a lot of people. The showcase gave us a lot of information about what's wrong with the game, what went right, and how accurate our own opinion of it is.
I think overall the showcase was a huge success. Most players enjoyed our game very much and thought both the gameplay and the aesthetic direction we went with are very good. The most sucess however was with children: they would tell their friends about the game and get them to play, and they would huddle around computers to see what was happening. Loot Nubs fullfilled its purpose perfectly as the target market is children around the age of 10-12. Many adults however liked the game very much as well.
There were some problems with the UI and lack of clarity. Due to the time constraints we did not incorporate a proper tutorial into the game, which made certain actions unclear. For example the button for opening chests was hidden inside another UI element that had to be opened. We've changed it since so the button is more obvious and in the front UI.
Adding a proper tutorial would definitley be priority number one if we were to continue on theis project. Aside from the showcase I also want to talk about another kind of testing we've been doing thorughout the development of the game: Metric testing.
We've been collecting data from users over the past few weeks to get insight into how they play the game and what changes we could or should make. We have a couple of different values we were checking for, like the amount of chests the player purchases and how often the player chooses to speed up construction using gems. This is just to get a better understanding of how the player is using their gems. We also recorded how many points of interest the player finds, which is to check for consistency. We also recorded how many nubs the player has when they exit to possibly get an insight into why they quit (they run out of nubs?) or to see how well the players take care of the nubs.
Even though these recordings are in principal very useful, we did not make enough use of them, especially because we didn't know what devices were transmitting the information. What I mean to say is that most of the data came from ourselves since we started and restarted the game over and over again for testing. It is hard to see the relevant data from playtesters among all of the data available.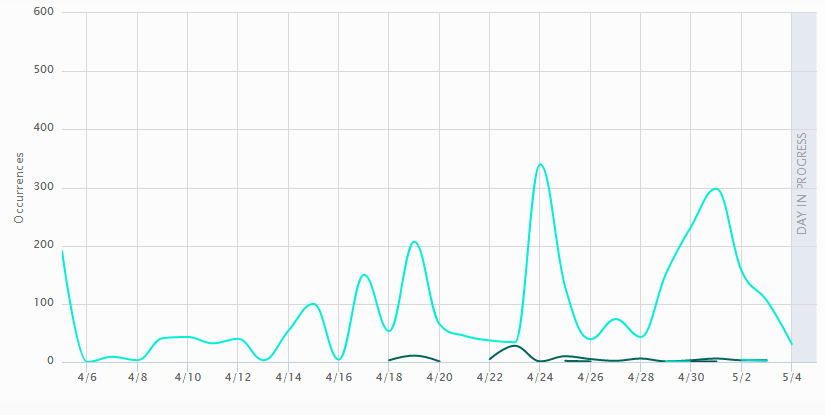 The graph above is some information for the amount of chests players purchased throughout the course of development. The largest values are from users who didn't purchase any, because most of the time we didn't test the chest purchasing. For example on the 24/4 there were 340 instances of 0 ches purchases. Which is why using this data is so challenging.
But also we should have expanded on the things we wanted to test: We should have tested which buildings players are building, which units they are training, how many items they are selling instead of keeping, and so many more. With a proper system where our own data doesn't interfere with the player data this information would have been priceless, as nothing is more objective than numbers. This is something that we have to improve on using as a team.
I am however very happy with the final game, suprisingly so as I wasn't super optimisic about it in the beginning. As a send off here is the trailer to Loot Nubs: