After a successful alpha test and a lot of improvements and changes, we are approaching the next stage of development on schedule. We'll be having a beta test in the next month - those of you who are interested feel free to fill out this application form. And, the full game will be released late September or early October, in time for Halloween this year as promised!
The title page has been improved. You are now pulled into the darkness beyond the opening door, setting the mood right from the start of the game!
What's New?
There is now an optional auto-mapping feature which lets you see all of the dungeon you have already explored. This is very helpful for finding doors and locations that you've been to before. The auto mapping and the ability to save and reload when you die will constitute an "easy" mode of the game… but it still isn't easy to escape!

The sound system has been improved with more dynamic filters and effects to really immerse you into the game. Also, many of the tracks have been revised to be a lot more atmospheric and dynamic. The change in the music really plunges you into hopelessness as you plunge deeper and deeper into the dungeon!


First Floor - Indie DB - The new BGM for the first floor. Isn't it pretty? It almost sounds like escape is possible! But unfortunately the comfort of this floor will not last for long...


Controller support has been added to the game, along with other control improvements. I'm planning on porting the game to some consoles, but you'll have to wait for more news about this until it is confirmed.
Lots of new events, rooms, and story material have been added. Now, if you explore enough and dig deep enough you'll start to learn about why the dungeon is there, and several secrets. There's also a ghostly voice who will guide you... somewhere...

So, a lot has been happening, and the game is getting pretty scary - even for the developers who know the secrets of the game, it has its moments where it takes us by surprise! I know a lot of people have been curious to see gameplay footage, and while I've been hesitant to show too much in game (I don't want to give it all away), we will be showing some gameplay footage over the next few months to build excitement for release day. We will also be updating more frequently as we approach release, so stay tuned for that!
Finally, we decided to post our first screenshot of the main antagonist of the game. While it's dark and in the distance, the Darkness is in there. Enjoy, and you'll be seeing a lot more of it - perhaps up close and personal, if you are unfortunate - in game!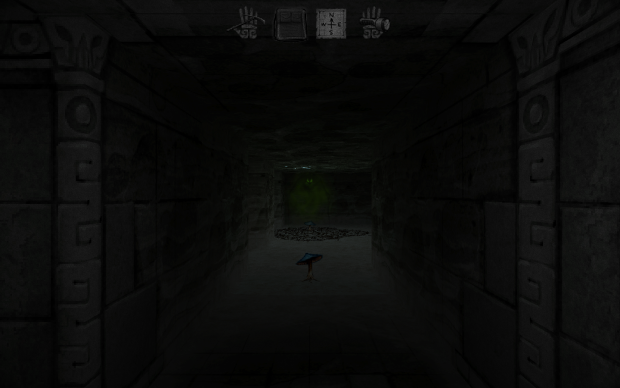 Until next time!