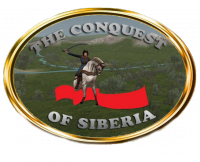 Mod is desined for last Warband's versions and tells player about period of conquest of Siberia by Yermak. Players will be able to attend Yermak or join Siberian Khanate. It won't be a historical module down details and author don't actually plan to implement that. Some things aren't strictly historical, it is done to save the game balance. Global map, units' equipment and weapons meets with current epoch. There are also historial personalities of 1581—1585 years. Factions was created as prototypes of people living in Siberia in that historical period. There are Siberian Khanate, Rus and some local nomads' factions. There is new music dominated by Russian and Mongolian motifs. New scenes will give you an opportunity to take a look at stone fortress as well as old-Russian log cabins. Author plans to add Diplomacy module and some new quests. Mod supports Russian and English languages. Mod can be placed everywhere but only with the link to the homepage commando.com.ua.
Features:
new world map
another factions(work in progress)
modified troop trees
new equipment for troops
changed lords
music
new scenes
improver graphics
new models
chance to become a mercenary
There is early version on the homepage but it has no english translation. You also can check some troop trees and a little video.