Welcome, gentlemen, and indeed any lady that might venture onto these wild realms. Baton in the Dark, the mod that pits you and whoeverthehell else in pitch blackness and lets you run around beating the living hell out of each other is ready for beta. I've implemented all the feature this release is going to have.
All I'm doing now is making the map a little sexier, add capture points to the overlay and fix up everything for go!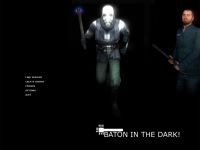 Anyone who wants to give this a whirl should head here. Don't blame me if I don't PM you back, I'm currently doing exams, so I'm really busy.