Best update?
Maybe not the best, but damn it's close, introducing 2 ship designs, as well a shot of the Corridor with the plant pot concept.
Transport: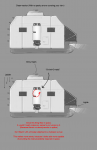 Introducing the Transport ship with it's swivel-o-matic engines, and it's obviously very aerodynamic design. This ship can fly up down, forwards and backwards, but if you need to turn, then the ladder is there for you to get out and push the ship. The ladder also doubles as stairs, giving the added functionality of being able to reach the top hatch, where the entrance to the ship is located.
Bullfrog:


Pushing the term Aerodynamics to the extreme. Not only can this ship like the earlier ship fly forwards, up, down, and back, but also like the last design, what ship wouldn't be complete without headlights? Space is dark, and you know that the light is going to brighten up the reaches of space for at least 5 meters.
Interior Design: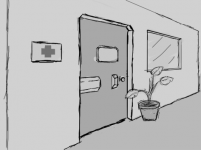 All I can say for this one is... yes that's a plant pot on a space ship. Enough said I think.
X32I Theme tune: