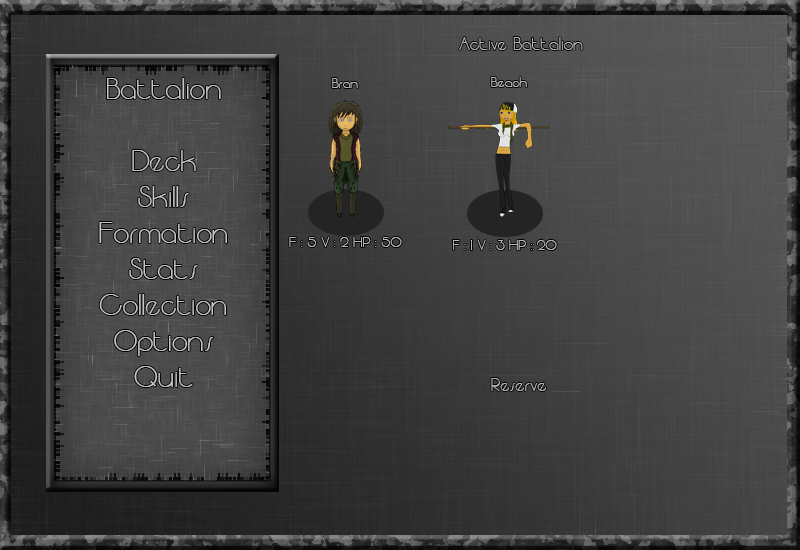 The Battalion Screen
The Battalion screen is where the player will be spending most of their time in regards to planning their combat strategy. Unlike most card games where strategy happens in the midst of play, in After Rebirth the heft of the strategical decisions will be made behind the scenes. Instead of using a combination of cards in battle to create a dire situation for the enemy, the player will have to recognize each card for its' individual use and use them accordingly. However, this is not to say that there will be no 'chaining' possibilities.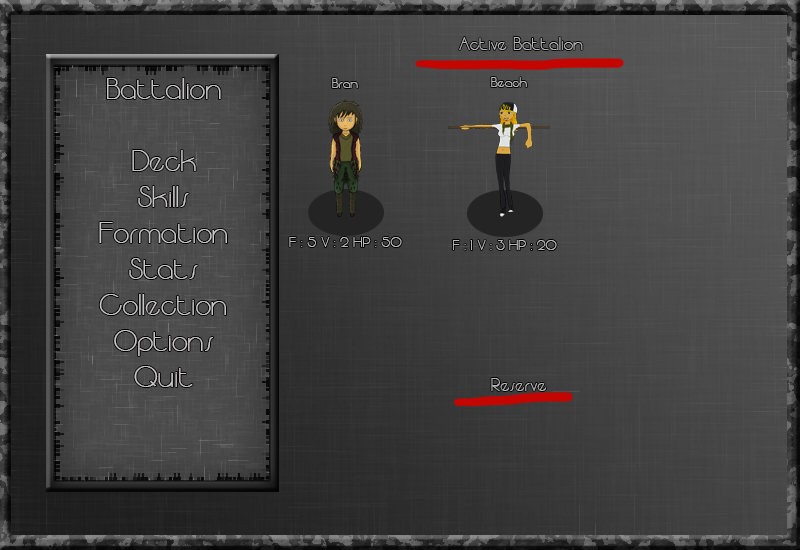 Active/Reserve
First let's go over a familiar concept for all RPG fans, the Active/Reserve party members. Like other RPGs, your active party will be limited to a set amount of members (currently undetermined) and the rest will reside in the Reserve pool. However, unlike other RPGs this does not effect their 'growth' at all due to the fact that there is no character level system or 'experience points'! All growth takes place through another system I will discuss later.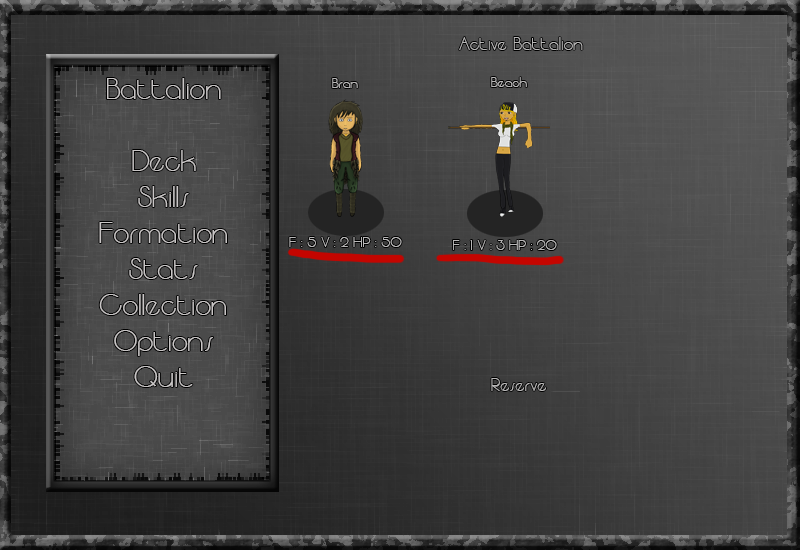 Faith. Vigor. HP.
Faith, vigor, and health points are the only statistics your characters possess. There are many ways a player can build their Battalion around these three statistics and the choice will be theirs.
Faith : Increases the the Battalion's potency of offensive cards as well as susceptibility to ALL card effects (friendly and enemy).
Vigor : Increases the effectiveness of the Battalion's physical attacks, and resistance to ALL card effects (friendly and enemy).
HP: The Battalion's total Health Points.
The individual stats of each character do not represent their personal effectiveness in battle, but rather show their contribution to the Battalion's overall effectiveness. For example:
Using the stats above we have Bran with a Faith of 5, Vigor of 2 and HP of 50. Combined with Beach's Faith of 1, Vigor of 3 and HP of 20, the Battalion's total stats will be:
Faith: 6
Vigor: 5
HP: 70
These will be the stats used to calculate Health and combat effectiveness. When the HP of the Battalion reaches 0, it is a lose; there are no individual character defeats.
Breakdown of the Menu
On the left side menu there are some basic menu options many player will recognize, but here is a little elaboration:
Deck: This is where the player will build their deck out of available cards. They will be able to sort their cards using different filters in order to find specific cards quickly.
Skills: This is where 'character growth' will happen. At predetermined times throughout the game (and at some secret, hidden points) players will be granted points that can be used to influence their characters in battle. Skills will play a large part in deck construction and overall Battalion make-up. More on this in the future.
Formation: This is where the player will choose which characters will be active or reserve in the Battalion.
Stats: This is where players can get an overview of each members skills and stats, as well as the combined skills and stats for the active Battalion.
Collection: Displays all of the cards the player has collected as a whole and as part of each set.
Options: Displays game options.
Quit: Quits to the Main Menu.
This is just a rough idea of what to expect for the Battalion screen. All functions and visuals are subject to change as development continues on.
Any questions or comments are greatly appreciated!
Thank you,
Joel Walter Newman
-Piko Island-