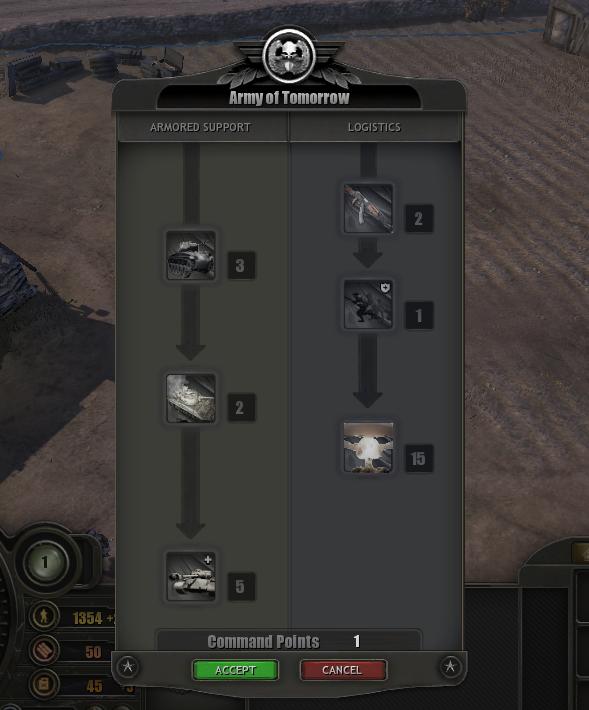 This command tree offers access to the most advanced weapons and upgrades the U.S. Army can get. First, on the left hand side, we have the M-24 Chaffee Requisition ability, which allows you to call in Chaffee tanks early on. Their CP value might be lower in the actual release.
Second, we have Sherman Retrofit, which provides a new engine for the Sherman tank, making it faster and not quite as easy to set alight.
Finally, there is the M-46 tank. This powerful main battle tank can face down some of Germany's best armor, though one should think twice before sending it up against a Maus.
For the first of the right side rewards, there is AK-47 Rearmament, which allows you to purchase AK-47 assault rifles for any of your infantry units.
After that, there is Body Armor, an upgrade that provides the latest in undershirt protection.
Last but not least, we have the Atomic Artillery Shell. Since the U.S. Air Force can't afford to risk sending in an actual bomber over France for fear of Germany's ME 262s, they have had to resort to condensing the bomb into the form of an artillery shell. This is then launched over long distances with precise calculations pinpointing its trajectory. This weapon is extremely rare, and it is only in a few instances that the American High Command will approve its use, or be able to requisition one, for that matter.
Well, there you are, the Army of Tomorrow. However, that is not all I am revealing today. I have conceived of a special (non-historical) bonus faction, the identity of which will remain a secret for now. Feel free to guess in the meantime. I'll probably announce its identity in the next news update. Note that the bonus faction is a long term project, and would not be released until after the Soviets, Great Britain, and the Panzer Elite.
Thanks for you time,
Lord Wiffleby