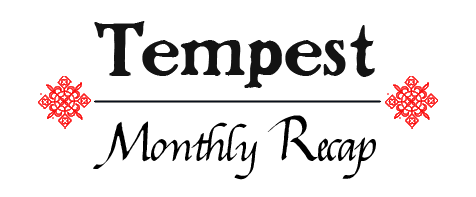 Welcome!
Welcome to our fourth monthly recap for Tempest. Where we'll be showing our progress for the month of April 2015.
---

New Trailer
We have a new trailer, which demonstrates the progress we have made since January.
---

Our volcanic island has been recreated with a fully modelled eruption sequence! We're hoping to get a video up of the sequence soon. Until then, some pictures of the volcano:
---
In much the same way that players can draw their own maps, players can now create their own banner which will appear on their ship's flags. The system is still a little rough around the edges, but can be used to create some basic illustrations!
---
Players can now purchase rum at taverns. Rum is a very cheap and quick way to recover lost health, but will cause the player to become drunk.
---
Alex has been hard at work creating more music for us. Most recently, our trailer track. We have been steadily implementing the tracks in to our builds over the last few weeks. This means we are one step closer to having a demo build available for download here!
---
Let us know what you think!
If you like the sound of what we're trying to achieve here, or if you'd like to help us out, leave a comment or send us a PM. We welcome critique and feedback. That's all for now. Until next time!