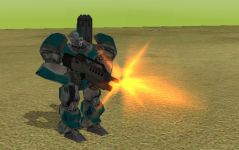 Well - we've come no closer to explaining the game's concept - but that's been cause those of us in the know have been working on implementing it!
And that group has been starting to grow - from the initial two - over the past days. We'll look into doing some intro's later on - for now, rest assured that we're right pleased with the contributions of our new teammembers.
On top of some fresh blood, we've been getting some outside assistance - specifically, we should be seeing a first draft of the games map in the next few days. Keep you're eyes peeled for Screenshots with Engines striding by Skyscrapers! In the meantime, be sure to checkout the most recent Engine - a Heavily armed and armoured Engine, Missile launcher included.
As you may or may not know, the Game-Engine we're working with (Spring) is geared towards RTS titles - nevertheless, piloting you Engine will be via a mixed keyboard + mouse setup. The Keyboard steering side of that - coded in Lua - is starting to feel pretty smooth.
By and large, in what still seems an impossibly short time to me, the pieces are starting to fall together, and we're likely to have a first (rough) playable version within the next week or two. We'll be keeping testing internal for the moment though - so don't get your hopes high on besting your mates in this game next month!