Hello dear Indie lovers;

We are a two man indie team and... actually you know the drill already. Sleepless nights, bleeding eyes, coffeine crisises... Instead of telling the story you all heard AND probably lived through, I will just skip to the good bits.

Even though it's possible to write a lot about Taptap Kidnap, one sentence is actually enough to tell the core of it: "If it's white, tap it once."
A picture is worth a thousand words, and a video is worth a thousand pictures, so you can calculate how many words this video is worth: (720p60 recommended)
[HOW TO PLAY]

--> Tap white orbs to free the Taptaps within.
--> Some orbs spawn bombs, juggle them till they are defused by tapping them
--> UFO will come and deploy a barrier, preventing your actions in an area. Remove the barrier by tapping all the white dots on it.
--> Get the bonus crate from helicopter
--> When you have lightning charges, activate the superweapon by swiping your finger from anywhere in the bottom half of the screen towards the upper half.

[FEATURES]

--> Crispy 60fps action mayhem, one of the most intense in mobile devices. (Especially in latter waves)
--> A unique blend of gameplay mechanics that is easy to learn but difficult to master.
--> Global scoreboard between all brands of devices.
--> A new kind of UI design, with major elements always visible behind main gameplay area.
--> Free to play with no in-app purchases and all content unlocked. Just watch an ad to the end to be able to choose a city for yourself, instead of getting a random one.
--> Eleven cities to choose from, each with a different advantage and a disadvantage.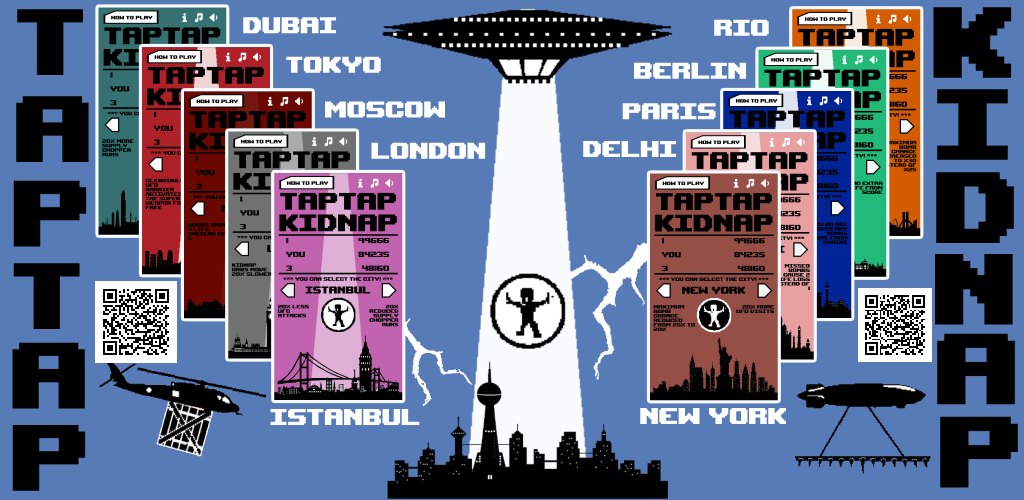 [HINTS]

--> You can tap a freed Taptap as it falls down to give him a parachute, which will grant you 10 points instead of the normal 5.
--> You can chain parachuted Taptap saves up to +30 and get even more points for each save. Losing a life or getting a normal save will break and reset the chain bonus.
--> Tapping multiple objects at once grants you additional points, so instead of crazily tapping , taking a risk and waiting for objects to overlap before tapping them all at once is much more rewarding. See "how to play" section in the game for more details.
--> You can only tap the bombs as they are moving downwards, which will make them "jump" again. You will notice they are completely black when moving upwards, and a white window opens when they are falling down again, indicating you can tap them. Inside the window, you can see how many lives the bomb has left. Remember, "if it's white, tap it once."
--> You can't tap a freed Taptap right away to give them parachutes; they are dazed by the sudden freedom and need half a second before they can recover.
--> Each save you make gets a bonus from the wave, i.e., you get +10 bonus for each Taptap you save in the 10th wave, with or without parachutes.
We hope you enjoy it. It's free. Get it on:
Appstore: Itunes.apple.com
Playstore: Play.google.com