'Tap 'n Dash' is made as a web/mobile mini game.
The game begins development on Jan 1,2018, and first released on Kongregate on April 2, 2018.
Now, Tap 'n Dash is released and available to mobile platform & various game portals. (links down below)
INTRODUCTION:
---
Inspired by Japanese arcade game like 'Hyper Bishi Bashi Champ', and combined with the 'Runner' element in mobile games, this uniquely-packaged game is made.
Fundamentally, 'Tap 'n Dash' is a fast-based arcade/action/puzzle game.
By design, 'Tap 'n Dash' is focusing on the player's 'Reflex' and their earned 'Hi-scores'.
On gameplay, you tap the right picture on the 3-tile-quizs until you reach the finishing line- by using mouse click, keyboard or touch (for mobile). You can also build combos, or tap on the randomly-appeared 'Solo-Tile's to get 'Turbo', 'Health' or more, in order to get higher hi-scores and ratings.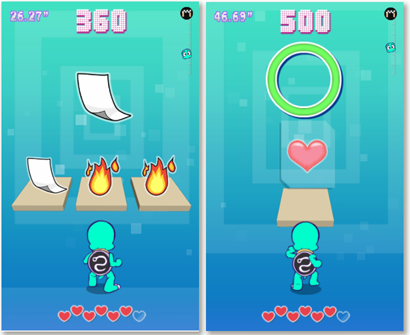 Run our turtle towards the goal through tapping the correct picture.

The game has a total of 2 game modes ('Same' & 'Similar'), 6 levels (includes 2 endless levels), an 'upgrade' system with 6 upgrades(unlockables), 2 'stats' screens, 2-3 selectable background music tracks & 4 color themes to choose from.
Also, it integrates Game API and stats on for platforms which provides API stats like Kongregate, GameJolt & Google Play Service.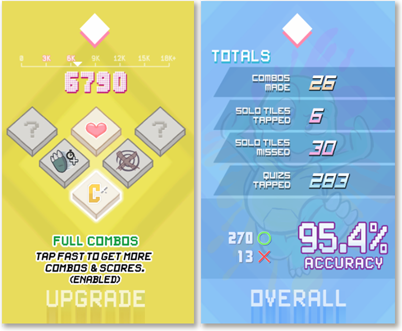 Get 'Upgrades' to increase the fun, Stats for all stats
Tap 'n Dash is FREE TO PLAY.
It's for everyone who wants to try out something different, to spend minutes for casual entertainment, or just to challenge their own eye-brain-finger co-ordination.
To play the game, just check on the direct links below.

LINKS :
---
---
You can visit development log here along with my other games.
Or follow my work via Facebook or Google+ & Twitter.
Cheers!
-Allen T, Snouty Plays