It's been a fun ride so far and the mod is slowly getting ready for a playable first release. Lets take a look at where it's currently at and what's happening right now.
The Vasudans have finally found their way into the game. Well, they were in before, but only as empty, non-functional hulls without engines, weapons or anything else. And of course they didn't get any screentime... yet. So let me rectify that and witness a snippet from quite an epic battle between two corvettes, a Vasudan Sobek and a Terran Deimos (presumably NTF, I guess):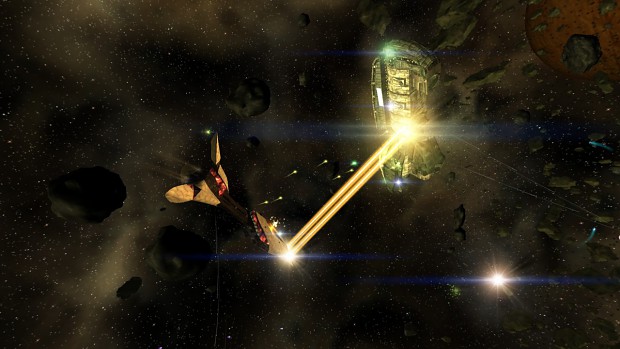 That being said, the Sobek absolutely destroyed that Deimos during the fight, which tells me to work more on balancing. Of course, a Sobek is supposed to pack quite a punch, especially if taken on heads-on... but a Deimos should probably last a bit longer than half a minute.
Ok, what else? Ah yes... there has been an effects overhaul, replacing and fine-tuning several in-game effects like laser beams, engine glows / exhausts and the sun's lens-flares (which look a bit silly in stock Nexus). I also went to great lengths trying to rework the ingame-interface to make it look more "Freespace" and less "Nexus", but holy cow: that's complicated. Redoing a few hundred HUD-related textures is quite a task and I'm not a talented UI artist... so that'll have to wait for later, I guess. Getting gameplay up to speed seems more important than a fancy UI.
Speaking of gameplay I also worked on weapon balancing, damage and armor levels as well as accuracy tweaks to make battles that much more interesting to watch. Seeing a frakking huge beam cannon miss target after charging for more than half a minute makes for a wonderful emotional moment... depending on what end of the beam you're at ;)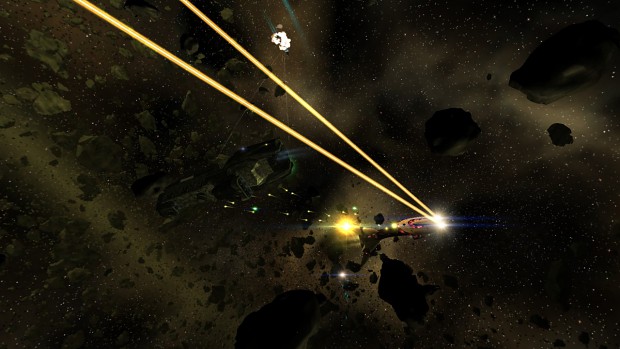 Right now I'm gearing up for a first playable release of the mod. The plan is to include all the cruisers, corvettes, fighters and bombers in it, but leave out the big capital ships for now. They just take a stupid amount of time and careful planning for placing the right turrets at the right spots because of the strict weapon-related limitations of Nexus' engine. Long story short: they'll not be in the first release, at least not in a playable fashion. That way I can already start collecting gameplay-related feedback before trying to get the capitals right and having to re-do them later anyway, because people didn't enjoy them enough.
I won't give a release date for this first release, as schedules tend to go wrong in so many ways once you try to stick to them... but it should be pretty close.
That's it for today, hope you enjoyed your stay. :)