We've got a heap of great new talent here at Tactical Assault and we thought it was about time we show it off to you guys. Over the next few weeks we'll be showing you what our team is up to (which means you'll get to see, and hear, some new stuff!) starting today with our new composer - John T Marrin. John is a composer from Los Angeles, California, USA. When he's not in the studio making music for us, you'll probably find him at the beach, or watching some kind of sporting event over a beer and a good sandwich. John loves to travel and meet new people. Oh yeah, he writes awesome music too!
What inspired you to start making music for video games?
I love making music for all facets of the media - film, television, and games. Making music for games just happens to be one of the most rewarding. Music in games is a relatively new form and being in its infancy it offers many avenues for exploration. In games, there isn't necessarily a set narrative as in film; the game is constantly evolving based on the game player. This gives many opportunities to explore new ways to compose and implement music into an evolving medium.
But I think the best part of working in games is that you have the opportunity to work with numerous creative people (in this case worldwide) all looking to contribute and the make the game look, feel, play, and sound amazing. And that atmosphere of creating something only limited by your imagination is the reason games are such a great creative form. Not to mention they all appeal to the big grown-up kid inside.
How did you come to join Tactical Assault?
There is nothing better than working in an atmosphere not unlike a small upstart gaming studio where people don't care about the financial bottom line. They care about making a great game. The modding community is a great place to get this kind of attitude. And so, in looking around the internet, I found Tactical Assault on one of the mod developer websites. The media releases looked amazing and they looked like one of the best mods out there. So I applied. I was tasked to try out by creating music for a jungle themed map and they liked it… so here I am. Now it is even more exciting with the advent of UDK, Tac Assault will no longer just be a mod, but a stand-alone game.
What is your musical background?
I've been creating music for a long time and in the words of Forrest Gump, "that's all I have to say about that." No, seriously, I've been playing, writing, and recording music for the better part of 25 years. I'm classically trained in some disciplines and self-taught in others. Since I was 15 years old, I've played in several bands, ranging from hard rock to 70's funk. My first loves are guitar and piano.
Can you give us an idea of your creative process, and how your ideas take shape?
The first part of the process for me is to try to get a handle on the project as a whole. I try to digest all the ideas, concept art, and references provided so I can get a sense of what the project is. I talk with the creative element and the producers to see what direction they envision for the project. When I am armed with all the possible information I sit down and think about the mood of both the project in piecemeal and its make up as a whole. From there I develop what I think will be its voice and what instruments I think will make up its basic palette. I then think about developing musical themes that will probably reoccur in the various individual cues and whether they universally fit the mood.
When I finally sit down and stare at a blank screen and it's time to start writing, I usually have a pretty good idea of where to start. From there it's a matter of sketching out the ideas as I hear them in my head and getting them in the computer. It rarely sounds exactly like I have it in my head, but with a little trial and error here and there, something good usually comes of it.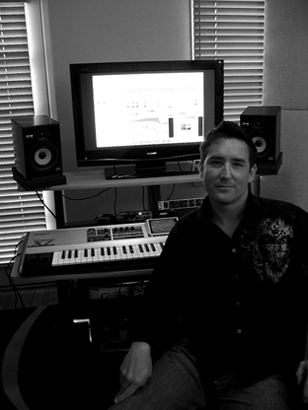 What kind of music do you listen to?
I listen to everything. My girlfriend and I both have very eclectic musical tastes and we are constantly trying to one up each other with new and interesting finds. I actually like a lot of obscure eastern music. With every new project I usually find some kind of reference music from different countries to get my ears wet. With the Jungle theme I listened to a couple of aboriginal music selections I found on the internet and in my collection. I try to do this very sparingly though as I don't want it to taint my being able to make something new and original which is really important. I would much rather watch a movie than listen to a soundtrack, but I do have my guilty pleasures from Elfman, Zimmer, Shore, and Newton-Howard.
What is your vision for the music and audio for Tactical Assault?
My vision for Tac Assault is to have the music be something new and exciting that the players like to listen to. I see something that pumps them up as they prepare for battle and scares the crap out of them and sends them crying to mommy just when they're feeling invincible. I hope as a team we are able to explore new and interactive ways of implementing music and sound inside this game that will keep people listening in a genre where players typically turn down or off the music to hear other elements. I can't really go into some of the ideas here, you will just have to wait and see when the game comes out. Hopefully a soundtrack in the works too, so stay tuned.
Could you explain this piece in terms of what you're trying to portray to the listener and how you go about achieving this?
To me a jungle has a very distinct palette of moods to it… ideas of indigenous peoples and their musical styling and instruments were all in play. I also wanted to come up with something that spoke to what a jungle would feel like if you were stuck there, thrust into combat. To me the situation is dark, mysterious and spooky and so would the music have to be. You should feel like danger of the unknown is around every corner from both enemy and nature alike. You should feel choked by the endless canopy of trees surrounding you as you worry whether or not you are being hunted.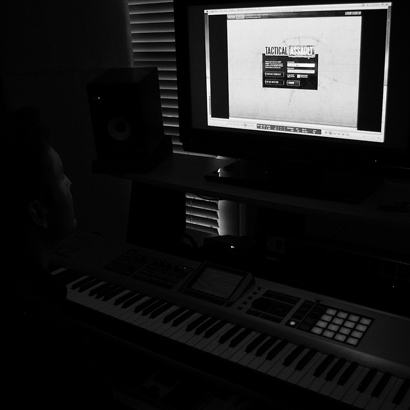 What kind of hardware and software do you use in your studio?
My studio is a Mac based system using Logic 8 as my DAW. I use a fantomX7 and a Roland A80 as midi controllers. As far as software I use a ton of different plug-ins from various companies. I really like using the Logic on board plug-ins… I think they work great. I do have some stuff I go to from Waves though. As far as sample libraries I use basically everything from East West, their stuff is amazing. I also use Vienna and even Symphonic Orchestra for rockier stabs and stuff. I have a bunch of guitars I use from a Les Paul to a seven-string Ibanez to a synth guitar and some acoustics. I also have a host of instruments and percussion "toys" that I use because you just can't beat giving a piece that human feel of real instruments.
We're still working away and are getting closer to testing some of our maps in the UDK. It's going to be AWESOME when we finally get the game up on the servers and everyone can start playing.
The team here at Tactical Assault is always looking for new, talented people to join our ranks. If you think you have what it takes to help us in the glorious task of getting our first release to the public then we want to hear from you. Go to www.tactical-assault.com to apply! We're especially looking for a serious, experienced animator so if that sounds like you - come and talk to us.
Remember, you can always visit us at our own website, www.tactical-assault.com, where we post all of our media and news as well as keeping up to date with us on Twitter.
Talk soon!
Your TA Team