Dear Community,
NGZ have been very supportive in our development of a First Person Shooter stand alone game, following patiently on the side lines for approximately 1 year to date, having full faith that we will deliver!
We would like to take this moment to express our sincere appreciation for their continued help in offering us a FREE dedicated root server so far, which has allowed this project to run smoothly and coherently with our SVN systems...
TA team can now announce after some small discussions, NGZ have openly agreed to extend their sponsorship and provide us (in addition to our existing services) a much needed webserver and FTP for FREE!
This comes with significant relief as our current host was due to expire at the end of May. We now have the benefit of having all of our services under one roof, from a reliable, professional and well established company, NGZ! - TA teams official German Game Server Sponsor.
We wanted to take this opportunity to interview NGZ, which you can read below:
---
Matt: Hi Ravage, FIRSTLY... A big thanks for your extended support, you don't realise how much this means to us.
Cheers for taking time out to answer a few questions... Please can you introduce yourself briefly?
Ravage: Hi. My name is Nils Büchner, 28 years old and I work at NGZ (United Colo) in Coburg, Germany as a System Administrator.
Matt: So how did you become involved in the TA team, are you an avid gamer, what is your history?
Ravage: Personally I'm not the biggest gamer. I play some strategy games and adventures. Kind of a Linux nerd I think. I am the server guy so I setup the server, but my colleagues from the gaming department got an e-mail from Rangarid, member of the TA Team, as you were looking for a server for the development of Tactical Assault.
We have been offering UT-based game servers from the very beginning. The original Tactical Ops was very popular so we liked the idea of a new UDK-based version.
Matt: Ahh.. Well "big up" to the gaming department too! Good to hear there are people out there that even know what "Tactical Ops" is!! So, as the server-boffin... what sort of gear do you deal with on a day to day basis? Come on.. Show us the 'goods' and drop us some specs... (The fans love that techno talk!!)
Ravage: Our current UT hardware is Intel Core 2 Quad with 4GB RAM, ASUS boards and 100Mbit connection.
We can dynamically switch the game servers from hardware to hardware in case a server is overloaded or damaged. Our current bandwidth for the game servers is 20 gigabit on 3 separate lines for redundancy. We are directly connected to the DECIX in Frankfurt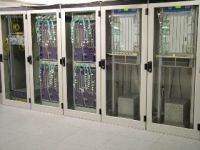 In total, NGZ host over 6000 game servers on approximately 2000 servers (hardware)!!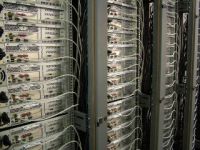 Matt: Mother of... that's a lot! I'd hate to think what the insurance premiums are... and if I owned that sort of equipment I'd want to be tucked away in some atomic-bomb proof bunker!
So, as we start to migrate all our current services over to NGZ provided hosts, have you been following TA much, what are your thoughts so far?
Ravage: I really like what I saw so far. The engine offers a lot of potential and you guys know how to get the most out of it. Like all your fans I would love to see some in game videos. But I read that we can expect something in the nearer future.
Matt: Ah... Not you as well! Ha! Well the good news is, we have 3 very experienced guys working on the Teaser Trailer... that will showcase our in-game footage to the public and once revealed, you'll know exactly why we have been keeping our in-game content under wraps.. or where's the surprise element?
Ravage: Screenshots and models are always nice but you need some moving stuff and action to really get the idea what's going on
Matt: Yup, we agree! But at the same time, we don't want to release material that we know is not to standard as a "next gen" game. We have principles and no matter what, they will not be changed - we have to protect the future of this game, so we feel strongly passionate about this subject.
Rest assured, after numerous setbacks.. We are on track and steaming ahead like you would not believe. Our team, unpaid, with real life jobs/families are working flat out in their spare time pushing and exceeding our current milestones.
Ravage: I think everyone sees that you really are into this idea and the game. And the work so far looks really incredible. We really can't wait to see more.
Matt: That is music to our ears, it's what keeps us going – listening and working with our community. Well I'd just like to once again thank you personally for NGZ's continued support, your time and we look forward to catching up with you all on pre-release ;-)
Ravage: Keep up the good work on TA :)
For more information on NGZ servers feel free to join them on irc.quakenet.org #ngz or alternatively follow the link below.
We Hope you all enjoyed this update, please stay tuned for more news coming soon!
Your TA Team