Our mapper Duke Nukem has provided us with new screenshots of the current map he is working on. The map is still a WIP.
We've also got a new team member that can skin. He has shown us examples of high quality textures compared to the original HL2 ones (Not displayed in this picture).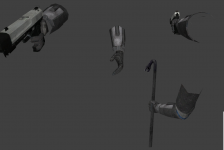 We've also had new members that have joined recently. An up to date list of our members is -
Coder: (need a coder than can help design a new HUD)
Alters
Mappers: (need more)
Alters
Duke Nukem
Voice Actors: (need more)
Milo
serge_the_great
Modelers: (need more)
Token
Alters
Writer:
Alters
Evan
Website/Forums:
Alters
Nilla
Beta Testers: (accepting more)
Swiftfreddy
Phill
Not A Rapist
John Mancer
[And All Team Members]
To sign up to join the team please email alters@alters1.com with the following:
(When sending an email please follow this format or your email may or may not be ignored)
Name
Age
Reason we should accept you
Examples
Conclusion
We will have more updates in the upcoming days including examples from our new modeler, reopening our website with a complete makeover, and more screenshots from updated maps, and textures (both skins and in-game wall textures etc).