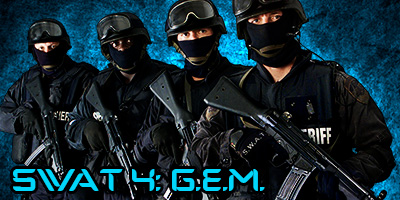 Third person view weapons textures
Let's start today's article with third person view weapons textures because those had to go through the most significant changes. As you know, those are the textures you see when you look at a weapon which someone else is holding in hands or which has been dropped.
These textures have a significant problem in the original game - they are blurry and nearly without any details. That's because most of these weapons textures are chronically low-res images. Therefore, when it comes to weapons, the third person view textures were the area of the main focus for this mod.
The mod fixes both issues by completely replacing majority of these textures with new higher resolution images in the game. As a bonus, these new textures are also making the weapons look more like their real-life counterparts now, because they include more details and are based more closely on real-life weapons.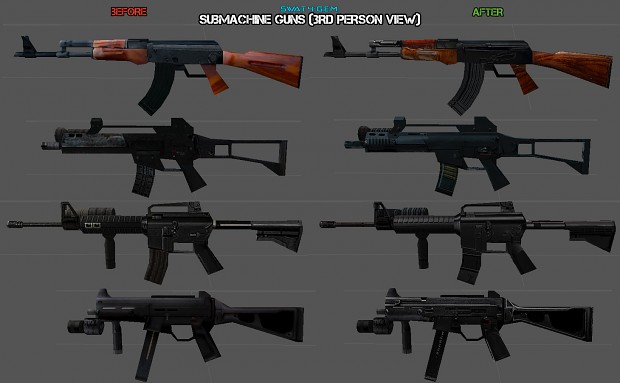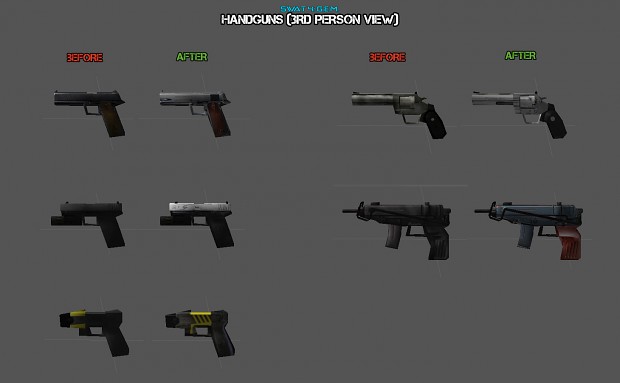 First person view weapons textures
The first person view textures of the weapons in the original game already look significantly better and a lot of them actually have quite satisfying level of details. Therefore not so many changes needed to be done to them and I mostly applied just some color corrections only. Furthermore, a lot of gamers are also using custom weapons models either as independent addons (such as Brettzies M4 mod for example), or as a part of other gameplay mods available for SWAT 4.
So given the already good level of details available in original textures, availability of other modded weapons and quite a big amount of time needed to "decript" the original UV mapping in these texture files, any significant changes of first person weapons textures was simply not a priority in this case. However, there was still some small room for improvements. Here is a quick look on a few: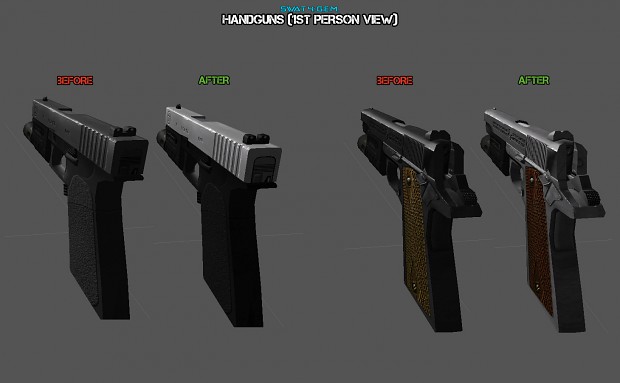 Tactical gear
The third category of weapons in the SWAT 4 is the tactical gear (mostly used by SWAT officers). This includes tactical distraction grenades, pick locks, breaching equipment, pepper spray etc. In the pictures below, you can see how some of this equipment looks like from a first person view, but the third person view textures have been changed accordingly too. The models themselves are not bad, so I mostly focused on recreating the textures in order to make them look a bit more like the real-life equipment. So just like with third person view textures of the weapons, I analyzed photos of real equipment items and designed the new textures according to them.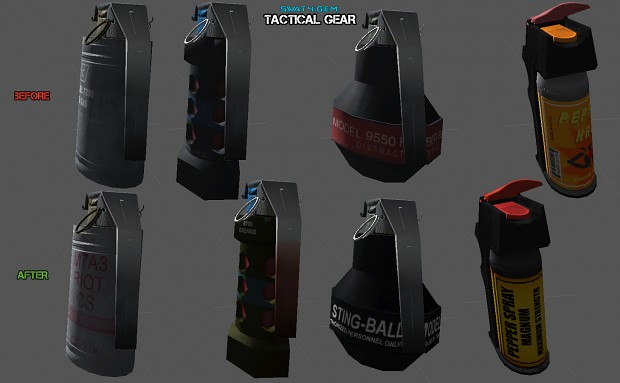 Next time, the news update will already be about the actual release of the SWAT 4 GEM mod, so be ready! It's coming really soon...