In the previous news article, I promised you will have a chance to take a look at completely redesigned part of the game - the marketing and advertisement materials of various in-game companies. So here they come...
A little remark here - by "in-game companies", I mean all those fictional enterprises somehow related to the game storytelling, mainly because the missions often take place in their buildings or offices. This refers to e.g. Red Library, DuPlessis International, Hologen Research Center, Food Wall Restaurant or A-Bomb Music Club.
There are also other companies whose fictional products appear throughout the maps. I refer to those as "brands" so it will be easier to distinguish these two company types from each other for the purpose of this article...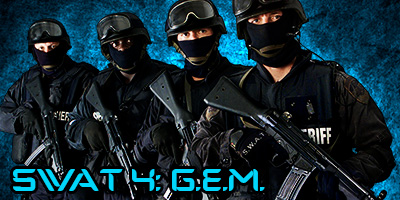 In-game companies and their marketing
You have surely noticed that the in-game companies like Red Library or Hologen are widely using various marketing materials at their workplaces. These are trying to promote their company brand, products, services or desired employees' characteristics. You can see the game developers created some of them in such fashion that they convey humorous messages, some of them are even mirroring social discussions and so on... They are definitely not boring or without content and most of us have surely found something appealing on them.
The main problem with these marketing materials however, is that most of them look like being designed in 90s, despite the game storyline is set to years 2008 and 2009. I simply always felt like those posters must have been created very hastily by the game developers and that there was not enough time for them to give those posters enough of professional touch.
As I already mentioned Red Library, let me start with them. It was the first in-game company I redesigned for this mod and their posters were even one of the first textures I changed when starting doing this mod. Obviously before I could start redesigning marketing materials like this, I must have researched some information about the background of each company and its activities.
Red Library is a rather small company focused on electronic data backup and recovery. Their offices were raided by a gang of armed suspects who were trying to escape police after an unsuccessful robbery attempted in another place. Kind of a bad luck in a bad day for Red Library employees, I would say...
The idea behind the new promotional posters for Red Library was to keep a strong focus on data backup and recovery while promoting these company activities in a more professional way and with more modern look. I have designed a new logo (which was still inspired by the original one), new company slogan "Be wise. Be safe. Be aware" (inspired by Dr. Breen's speeches in Half-Life 2 while still maintaining a reference to Red Library business) and I have designed a new and unified set of posters based on this slogan while introducing colorful pictures (in comparison with plain the black-and-white originals). And yes, I also included some witty references that will make you smile if you know them. You can see some of the examples of this concept below.
Of course, Red Library was not the only company that received this complete redesign. We can take Hologen or DuPlessis as other examples of such complete overhaul. Unlike Red Library, their buildings were raided on purpose.
DuPlessis is a trading company focused on gems and primarily diamonds, which was also the reason why their building with a huge vault was attacked. Their promotional posters are dominated by a black color (which I kept in the mod too). I focused mainly on redesigning their logo to have a slightly more modern look.
Hologen is a research company whose activities can be viewed as highly controversial, mostly because of their focus on human genetics. Their marketing department is apparently highly confident as it promotes an ongoing research as a practically finished and available product. While redesigning their posters, I still kept this in mind while the overall tone of their advertising was shifted to become more focused on women and their wishes as future mothers. The color theme was changed from yellow-green-orange to light-blue style, as it made the posters stick out more in the main lobby of Hologen research center.
There are much more companies within the game which are using some sort of self-promotional materials and posters. All of them were completely redesigned too so you can definitely look forward to much more new and eye catching material. Here is a selection of some of the other redesigns that will appear in the mod.
Advertisements
The game however contains not only these story-based companies, but also other individual brands whose products are displayed throughout various maps as reference to real-life products. And while I was in a process of redesigning the companies, I decided to redesign these in-game brands as well.
The goal in this case was to bring the brands closer to their real-life counterparts, while at the same time not to use the real brands names, because again, I didn't want to interfere with any copyrights in there. As a result, I have used partly fictional names more or less resembling real-life brands, partly completely independent new brands names.
I have reworked advertisement posters either by modifying the real-life commercials or by creating completely new adverts for these new fictional in-game brands. I have also increased image resolution for these new posters wherever the resolution of the original files was insufficient and appeared too blocky in the game. Textures of some products appearing in the maps as 3D objects were also recreated to go well together with the changes done to the advertisement posters.
You have already seen the Cool Cola soda machine in the previous news article, you have also had a chance to see Moonplant poster in the screenshots above (chosen to keep the developers' "Sonmanto" reference to Monsanto). Here is a bunch of other advertisement posters promoting various fictional brands in the mod.