Although the appearance of faces of various hostages as well as suspects has gone through slight modifications, the major changes have been done to their clothing. And clothing will also be the main focus of this article. Let's get started...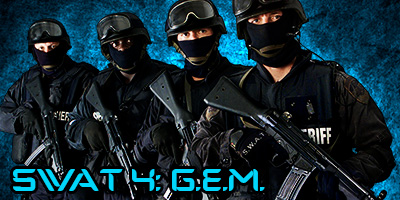 Men clothing
When it comes to SWAT 4 game characters, we can say there are 3 main categories they can be divided to - SWAT officers, suspects and hostages. You have already seen changes done to the SWAT officers, as I showed them to you in the very first news update about this mod.
When looking at suspects and hostages, they would be really hard to distinguish from each other not being the fact the suspects carry some weapon or another accessory like a gas mask etc. in the game. This is because in many cases, the game is using the same character models and clothing sets for both hostages as well as suspects, so if you remove all accessories and weapons and leave just the plain character models, both hostages and suspects look the same. Of course you can clearly recognize terrorists (armored masked suspects dressed in military uniforms) or Stetchov's bodyguards (Bulgarian mafia members wearing distinctive East-European-style jackets), but I'm talking about all the regular characters now. And with their clothes, the main change was to achieve more lively colors and variability of clothing models.
The main motivation of why I decided to completely revamp the clothes of game characters, was because all clothes were having the same similar dull colors without any reference to the clothes in real life. This change can be most clearly seen on the screenshots below, which are comparing modifications done to several clothes used by the game for Asian and Caucassian suspects and hostages. The first screenshot below shows you how all these "different" clothing models looked very close to each other in the original game. This is no longer the case in SWAT 4 GEM, as you can see on the second screenshot below.
Beside enhancing color saturation and sometimes sharpness of the clothes too, I have also made use to all that large blank space on the plain T-shirts, jumpers and jackets to introduce additional patterns, prints, patches and images. This helped to enhance the clothing variations even more so that the individual clothing models are more clearly distinguishable from each other now.
Women clothing
Changing women clothes was driven not only by a motivation for replacing the dull colors and introducing bigger variability, but also by a need for some real-life fashion in the game. I'm no professional fashion designer, but I can clearly see that the clothing models for women in this game are simply terrible. I mean how often do you normally get to see a girl in a camo T-shirt (outside of a military event)? Why is such a large number of women clothes in military-like colors anyway (as they appear widely in combinations of dull green, grey or brown etc. and in dull colors in general)?
To fix this issue, I did some small research and reworked all clothes to be based on real-life fashion combinations that you can see on real-life women. Well, I did the similar research for men clothes as well, but in case of women, I tried to stick with the real-life clothing models even more closely.
Facial corrections and unique characters
There have been also changes done with the actual characters' faces as well, but those are mostly subtle only and mainly if a form of just small corrections. It would definitely NOT be sufficient for a presentation in a separate article, so I'll write few words about it in here as it is still at least worth of mentioning...
The point of these corrections was to increase variety of individual features of the characters' faces. These corrections have been done mostly to eye color (as the original game presented nearly all characters with brown eyes only), to hair color and slightly to skin tones too.
The second reason behind these changes was to let some of the unique characters' faces and/or clothing be more easily recognizable (wherever it was possible to do so). For example Alice Jenkins (the drug-addicted head of the robbers in the convenience store) has now more distinctive eye shades letting you know she really has some problems with drugs and mental stability. Kim Dong Yin (one of the main hostages held in the convenience store) is wearing a unique Snail Oil uniform, to let you know clearly he is the night shift employee in the store. Kiril Stetchkov (official head of Stechkov Syndicate and father of Todor Stetchkov) has his face slightly altered too, so that it's more clear he has been burned before (as explained in mission briefing). Oscar Bogard (owner of Fun Time Amusements) is now wearing a gaming-theme T-shirt, mainly just to let you know he has close connections to gaming and is your main hostage in this mission.
There have been many small changes like this done to the game characters' appearance and I cannot mention them all in this article, but corrections in this area should give you another enhanced and more realistic experience when neutralizing suspects and rescuing hostages.