Survius Alpha 0.1.0 brings a number of exciting new features. Lets start with the most exciting one; Personal Tents.
Personal Tents
Each fresh spawn in Survius gets a folded tent in his inventory. You can place this tent anywhere on the island. It has 20 slots to store your items, which you can easily transfer from your backpack to your tent and vice versa.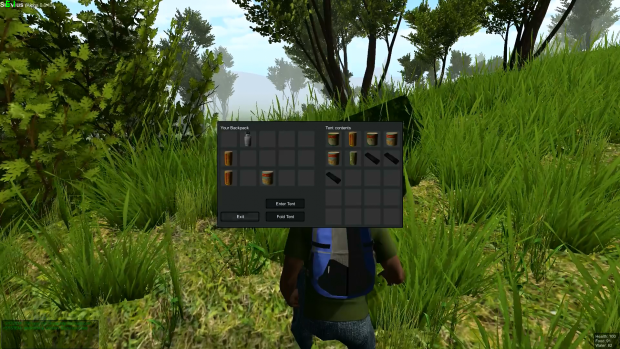 Besides storing your items in it, you can also enter the tent. This makes you invulnerable to players or zombies. At night it will make sure no zombies come visit your camp.
Be sure to setup the tent at a disclosed and hidden location, as people who find the tent can access the contents. However, when you log off the tent will also disappear. If for some reason you loose your folded tent, you can find one on the dead zombies. They have a small chance of dropping them.
Boiling Water
Among the other loot items you can now also find empty canteens. You can fill these up at any lake on the island. Drinking that dirty water will hurt your health. So you need to boil it to make it safe for consumption.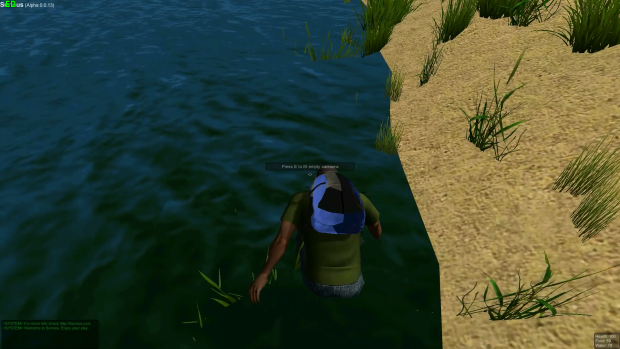 To boil the water, create a campfire with four logs, and put the filled canteens in one of the bottom three boiling slots of the fire. A counter will appear which will show when the water is boiled.
Loads of small fixes
Alpha 0.1.0 also fixes a lot of the reported bugs, for which I thank you all. Here is a list (as complete as possible) of fixes and features:
[fixed]Deer are hard to spot
[fixed](almost) No loot in Wennerston
[added]A way to collect dirty water and cook it on a campfire
[added]Heal player slowly when both water and food counters are above 90
[fixed]Stairs in a few houses are hard to climb
[fixed]When you logout the game does not save your location
[added]Add the ability for users to place a tent somewhere in the wilderness to store items they found
[added]A timer to the campfire slots, to show when it's done cooking
[added]Enter your tent to avoid zombies and players
Video Demo
I've recorded a short demo video which shows the new features.
Download
You can download this alpha here: Survius.com
Thank you for reading and hopefully I will see you ingame.