Survius Alpha 0.0.11 is released and this version has a number of important adjustments.
Alpha Trailer
First let me show of the trailer I created to celebrate the fact that the game is finally in open alpha, playable for everone!
Loot/Zombie spawns
The spawn system has been addressed (on popular request). From now on loot can potentially spawn in each and every house. It will also spawn more frequently during the game.
Zombies will also spawn more frequently, even more so in the new night mode. As soon as it gets really dark, zombies will start approaching the players actively no matter where they are. This will hopefully make the nights a lot more scary.
Zombie AI
On top of the more frequent spawning of the zombies, I've also tweaked the AI. It's still not perfect, and they can still get stuck on things, but they are a lot better at following you now. They still don't really like stairs, though they will follow you up one occasionally.
Tree cutting
Because you spawn into the game with a flashlight and an axe, a lot of players have asked why they could not chop trees to get the logs needed to create a campfire. In previous builds the logs just spawned in the villages.
This is now changed. Logs will no longer spawn. Instead, you can walk up to any tree and start chopping at it with your axe. If you hit the tree long enough, logs will be added to your inventory. Finally you can start a campfire every single night!
Somewhat related to this is the new look of the grass on the island of Survius and the replacement of all the trees. I've made the trees grow on lower areas of the island, making the villages and surroundings feel more natural.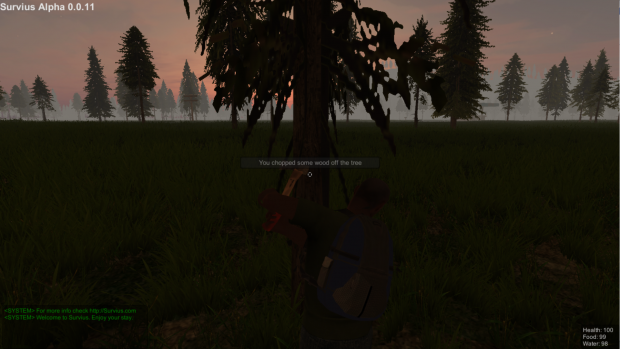 Server browser
The server list up until now could look very empty. This was due to the fact that I allowed people to start their own servers, including hidden servers.
From this build on however, the game will take care of the servers itself. This also means all players will connect to EU-based servers from now on.
This might cause a higher ping for some US or ASIA based players, but since this game is low paced we should be good. If it turns out to be a bad choice, I will reinstate the other regions again.
Who's online
I've implemented a first version of a Who's online list, so you can see who you're playing with. Finally!
Download
Thanks to a volunteer I no longer have to user OneDrive to facilitate the downloads. All files are now hosted on a fast server.
If you haven't done so already, create an account here.
Then download the game here.
The game is available for PC, Linux and Mac.