I think its fair to say this week is going to be a special week for the PixelBeam team.
After a lot of efforts and personal sacrifices, reaching the state where your baby goes online and let everyone play with it is something I can't wait to experience.
It is not fully polished yet, hence the early access, but in all honesty it is not a broken alpha either, see for yourself with 100% true gameplay footage:
As of today, we have a stable FPS client/server framework, fun gameplay, 6 game modes, 8+ maps, 24 weapons and currently 2 different classes. A third class will be completed within a month (the Angel class) and the fourth will show up about a month after (The Hacker).
Sometimes people ask me how I would describe the particularities of our FPS setting aside the custom game modes, graphics and the sensation driven gameplay, so I thought I would explain the philosophy behind our development process here: As mentioned above, we think the game's foundations are done, we have a powerful weapon and camera system and combined with a the convenient network engine I want to say "The sky is the limit". In other words, now is the moment where our path is going to splits further away from other FPS titles.
So what's the plan? What path are we going to take?First of all there are 3 main guidelines we'll always stick to:
Fun goes with elegance

Non stop gameplay fluidity

Everything fits competitions
Keeping in mind those rigid requirements, we are empowering all players to suggest modifications, improvements or features through our in-game, custom community development tool we call the "United Developers HUB" (UDH for friends).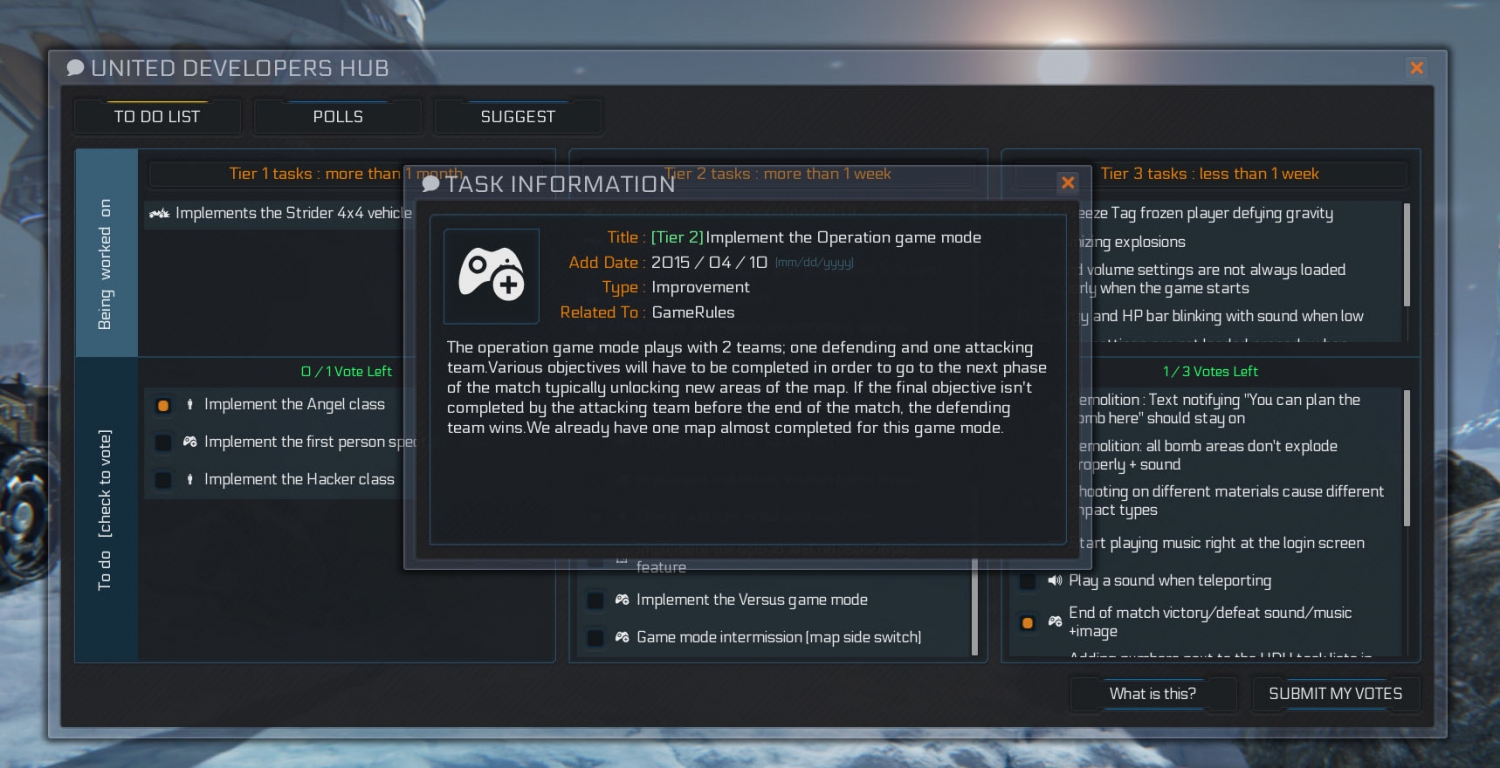 UDH works in 4 steps:
We or the player can submit a "to-do" task or a poll

We at PixelBeam curate the submissions and 'publish' everything that make sense.

Other players can vote on "to-do" tasks and polls

When someone at PixelBeam finishes a task, he picks up a new one amongst the most popular ones.
This is why in many ways, where the game really goes is quite unknown even to us. We will follow the main guidelines mentioned above but generally speaking it is the players who will decide what path we take and what we work on first.
We have described how UDH works in details HERE
As you can see, this is a very new way of working with a community and we're very excited to introduce this, it brings us one step closer to the truth when stating "a game by gamers for gamers".
The Steam early access release of Storm United will happen this weekend and will be available for Mac, Linux and Windows users.