1,this mod is not completely stable in skirmish (tank battle is fine in most times),it may crush after each time you running (begin/load) the game for about 40~60 mins.So I suggest you save the game every 10 mins,or you may do it whenever you think suitable.if you want to play COOP,insatll off_ai,it will be helpfull to keep the game stabilize.
2,when you play skirmish in new SP maps located at Bonus.The game maybe stuck/stuttering in the begining 2 mins(countdown 60~58 mins),that's because AI is deploying their troops.After 2 mins,the game will be smooth.If you found the game stuck/stuttering all the time even after 2 mins in big maps(like 19-flags one),then try smaller maps (like 12-flags one or 8-flags one).
3,all paper projects like KV-3/4/5,and postwar tanks like IS7,will not show in the reinforcement menus.If you want such tanks,use random light/medium/heavy tank menu to buy it(of course,most of these tanks are heavy tanks,so random heavy tank).If you're lucky,you may get the tank you want.
4,about how to install the mod,I thought install mod is a very easy thing so I don't need any tutorial for that.But,it seems I'm wrong......First,download both part1 and part2 of the mod.Then put them in the same folder and unzip them.If you met any unzip error,that's probably because you downloaded a damage file, so re-download the mod.



Move these 3 mod folders to your MODS,like X:\Steam\steamapps\common\Men of War Assault Squad 2\mods.



Enter the game,then Options-MODS.


If your AS2 is 3.0380~3.103.1b,then all you need to do is install is 47 v1.5.If your AS2 is 3.112~3.114,then install 47V1.5+47_fix_3.111.2.Be advised:3.0370 or earlier versions are not supported!So be sure your AS2 is at least 3.0380!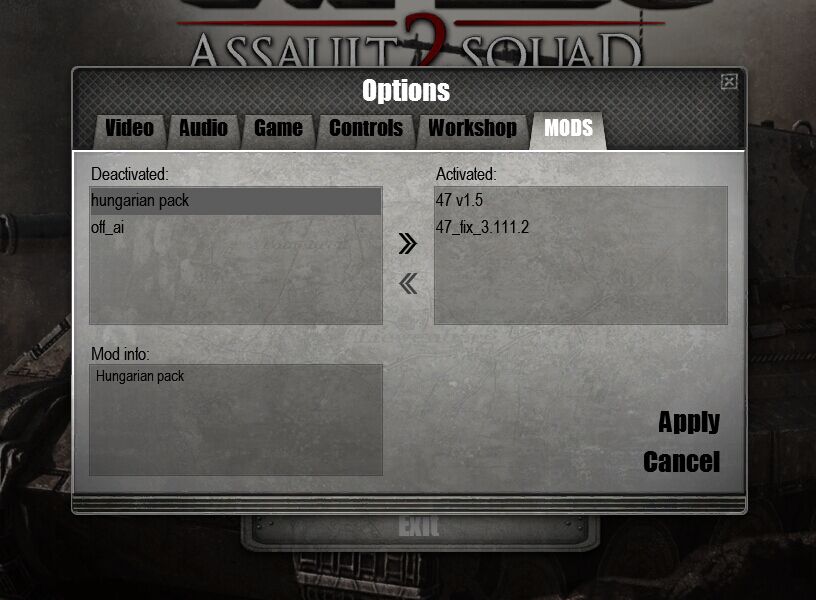 Don't install the mod with other mods or addons together unless you know the consequence.If you meet any errors,uninstall all your mods and addons,try install 47 v1.5 only.
That should be all.
That's it for now.I may add more later.