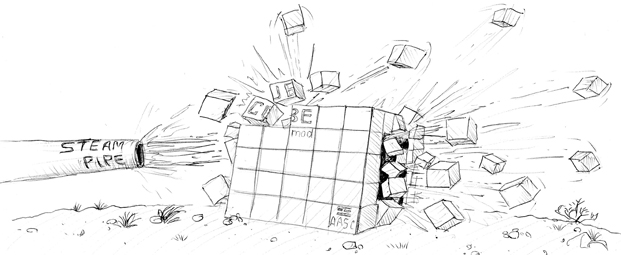 RU
С вводом системы Steam Pipe и Source SDK 2013 история разработки модификации CUBE столкнулась с одной довольно критичной проблемой. Старым версиям этого мода и так жилось не очень хорошо в технологичном плане из-за плохой оптимизации карт (что, собственно, и исправляется в данный момент в CUBE V3), но окончательный перевод всех игр на Steam Pipe, вывел мод из рабочего состояния… полностью.
Сей печальный факт ставит жирный крест не только на истории текущей версии мода CUBE V2, но и крест на разработке V3, а также некоторых других проектах AASC.
Вероятнее всего, инструкции о том, как это исправить, уже есть, но мы их удачно пропустили в свое время в силу того, что весь немногочисленный состав студии переживал в своей жизни не менее важный период – проще говоря, сессии…
Ну, а когда сессии закончились, Steam преподнес нам сюрприз. Попытка решить проблему самостоятельно ни к чему не привела. И вот несколько фактов, дабы предотвратить очевидные комментарии:
- Да, мы в курсе, что в моде надо изменять gameinfo.
- Да, мы в кусе что инструкции об этом есть в Valve Developer Community Wiki.
Мы уже пробовали самостоятельно настроить gameinfo, но единственное, что меняется, это только типы ошибок, выдаваемые игрой, а сам мод никак не хочет загружаться. Поэтому мы бы хотели попросить помощи у тех, кто, возможно, что-нибудь об этом знает. Или хотя бы у тех, у кого что-нибудь в этом плане получилось, ибо многие другие модификации на ModDB, которые в разы известнее и популярнее нас, тоже столкнулись с этой проблемой и на данный момент тоже не нашли ее решение. По крайней мере, официально.
Если вы что-то знаете по настройке gameinfoпод новую систему Steam Pipe или даже готовы помочь нам с этим, пожалуйста, отпишитесь ниже в комментариях. Не хотелось бы, чтобы история данного мода закончилась на такой глупой вещи.
Еще раз спасибо за ваше внимание и возможную помощь.
Коллектив AASC.
EN
After Steam Pipe system and Source SDK 2013 had been launched, the development of CUBE faced a critical problem. The old versions of the mod didn't have an easy life due to bad optimization of the maps (which, in fact, is being corrected in CUBE V3), but the transfer of all the games to Steam Pipe has destroyed the working mod... completely. This sad fact spells the death not only of the current version of the mod (CUBE V2), but also V3 and some other AASC projects.
Probably, instructions how to correct it already exist, but we have missed them because small staff of the studio had a difficult and important period – to say simpler, exams.
And as soon as they ended, Steam had a surprise for us. Attempt to solve the problem on our own had no results. Here we have to add some facts to prevent obvious comments:
- Yes, we are aware that gameinfo has to be changed.
- Yes, we are aware that there are instructions in Valve Developer Community Wiki.
We have already tried to tune gameinfo, but the only thing that changes is the type of errors while the mod doesn't load. That's why we would like to ask help from those who know something about it. Or those, whose attempts to solve the problem were successful – because other modifications on ModDB, which are much more famous and popular than our CUBE, have faced it and, as their official information says, haven't found a "way out".
If you know something about the changing gameinfo for new Steam Pipe system or even can help us with it, please leave a comment. We wouldn't want to end the history of our mod because of such a silly thing.
Thank you for attention and possible help.
Dev.Team AASC.