Today we are launching our Steam Greenlight campaign. Getting From Earth to Steam is super important for us. It will allow us to make our game available for bigger audience and make updating the game a lot easier. If you want to help, please vote for us.
As for the progress on the project, we have been doing some good work. We finally have new models for Zenaida and Anthony, made by Citizen_J.
Other people have joined the team as well, including Christiaan Bakker as a composer and Almir Jašarevič as a 2d artist. CzechDeath has continued making great looking concept art. We are still looking for voice actors to voice Zenaida, and the female aliens. Bingo has already recorded most of his lines for the male aliens, and has done a great job. Even though the script is not quite finished yet, it's important to fill those roles so that we can better test the Language System.
I myself have been working hard on the script, while simultaneously doing some level design and tweaking the gameplay.
If you are interested on Source Engine development, or to keep up with From Earth process, follow the project on Twitter. I will be releasing some Source Engine programming / animating tutorials in few days and posting the link there.
You can ask me anything on the

From Earth Facebook page or

From Earth Twitter profile .
Looking for help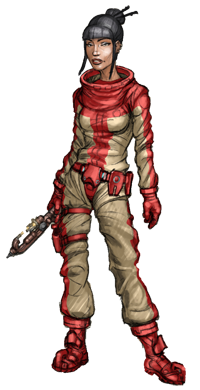 We are looking for any kind of help. While short contributions are welcome as well, we are specifically looking for people who have a little bit more time to spend for From Earth. We are looking for designers to spend more time, and give input on our fighting and item crafting system. We still need to design more puzzles, but we want to focus more on the interactions with the aliens as well as the fighting system.
If you are interested in applying, you can send me a message on Moddb, Twitter, Facebook, or e-mail me at au-heppa@hlssmod.net.
Gameplay Designer
While we are at the stage where we don't want to add or change anything big (we are more likely to remove than add anything), we are looking for active help on fine tuning the gameplay. As I am currently the only active designer it's very hard to get constant feedback on all the different elements of the game. We need someone who has time and interest in the project.
Level Designers
We are looking for two different types of Level Designers. Firstly, we need people that can bring existing levels an aesthetic quality, and are experienced with lighting, texturing, and the general make up in Hammer. Screenshots and/or example maps are required.
We are also looking for general level designers, such as anyone who has a lot of experience designing different types of puzzles for games like Portal 2. Source engine or Hammer experience is not necessary. You only need to be able to design levels well, whether it is on paper or Google Sketchup or what ever you find best suited.
Script Editor
We are looking for someone with a bunch of time on and interest on the project to bring the Script and dialogue to good quality. The story includes flashbacks showing a little bit of Zenaida's backstory and reflects the choices the player has made during the game.
Sound Designer
We are looking for a talented sound designer to create custom sounds for all the alien and human technology.
Concept Artists
Most of the concept work will revolve around the industrial era Alien technology and architecture. Samples of previous work required. We already have a strong set of existing concept art for you to draw on.
Voice actors and actresses
We are currently looking for voice actors to do the female alien voices, as well as human voices including Zenaida's voice.
The aliens will be speaking an alien language specifically designed for this mod. Their dialogue is partly already written and ready for recording. Examples will be provided if you are interested.
Other
We are interested in getting any help we can get, especially world texture creators and prop modellers.