Stats are the heart of any RPG game system. Since the player skills are not important, stats are the ones determining the player's progress and maturation.
Many RPG's have way too many stats, being honest I don't think most players really take all of them into consideration when developing their characters, so I decided to stick with a very basic set.
HP – (Health Points) This is your energy. If they hurt you it will be reduced, if it hits 0 you die. You can replenish it by using a healing item.
ATK – (Attack) This is your attack level. It tells how much damage your attacks can inflict on your enemies. It's determined by the weapon and item you are equipping and your AIM.
DEF – (Defense) The higher your DEF the less HP you lose when you are attacked.
AIM – (Aim) This one is interesting, since it's one stat I came up with for this game. I was gonna have STR (Strength) but it would make no sense in a game where all you use to attack are fire weapons. So AIM determines how good you aim is, the higher, the more precise your shots are and the more damage you can inflict on your enemies. When you are fighting an enemy, not only your ATK is important. The distance between you and the enemy is important too. The closer to the enemy the higher the damage.
LVL- (Level) Your current level. Indicates how strong you are. You level up by getting EXP after defeating enemies. When you level up all your stats increase.
EXP – (Experience Points) You get EXP after defeating a batch of enemies. Experience is expressed in the EXP/NXT format, where EXP are your current Experience Points and NXT is the number of Experience Points you need to reach the next level.
None of this is carved in stone. I'm not done with the battle engine, so I could still change some of the previous stuff, but I would like to keep it as simple as it is or even simpler if possible!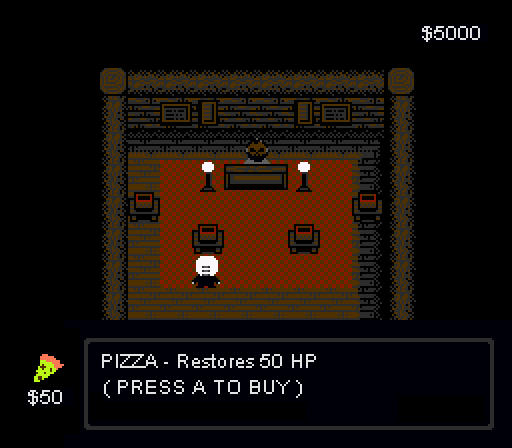 SHOPS
Shops are very simple and, unlike the list based shops of most RPG games, they feel more natural too. They are really similar to the shops found in the first The Legend of Zelda game for the NES. You have 4 tables with products, when you face a table you see the item description and when you press a button you buy the item. If you don't want the item, just walk away. You want several quantities of that item? Just press the button several times. That simple.
COMING NEXT…
I'll show you some screens of the new locations I've been working on and explain to you the new gun reload system, as a hint, it takes inspiration from a personal favorite of mine: Ys.
Thanks for reading, 'till next time!