These past 3 months or so we've been working solid on our Kickstarter being
ready at multiple stages. However internal issues with the
team's ability to support itself financially occurred, to the extent that development
slowed down for a while. Its still not back up to scratch however we are
still working towards our intial goal. I took it upon myself to write an update to the fans
here on IndieDB first this will be translated and reposted elsewhere
in some other shape or form.
But why are you so busy?
Our project leader Bioblaze had to move apartments during the date's we had planned for the initial kickstarter, doing so gave him some problems with catching up to his part time job's that partially funded the project. I myself (Ironstrom) will also be moving on the 18th of this month hopefully I can get the internet fixed soon enough, that it shouldn't be to long before I can get back on track.
What we can show you in the coming weeks
We've got some great pieces of music done by Charlie Armour
Charliearmour.com Some samples of his work here.
Some of the upcoming weapon models along with those unique customizations you were so interested in(seriously people said they were)
On our mind
We'd like to be able to pitch to you our kickstarter tiers at some point in the near future we'd like to see what your most interested in before we launch it without some valid feedback. We had the chance to talk to Kevin Saunders of Tides of Numenera and he advised us on this action it was a interesting talk. But we've had some feedback from other dev's as well. Got to thank sweet's himself for arranging some of these meetings for us thank you!
Initially
We were going to go without showing screen shots from the game since
we didn't want to show off things in a semi incomplete state
however this was not a shared opinion on the team. Having intended to
present them some time ago, we'll be updating on here a little more
frequently with more then just the concept art as shown before. But
with examples such as the base models and textured assets along with
scene shots.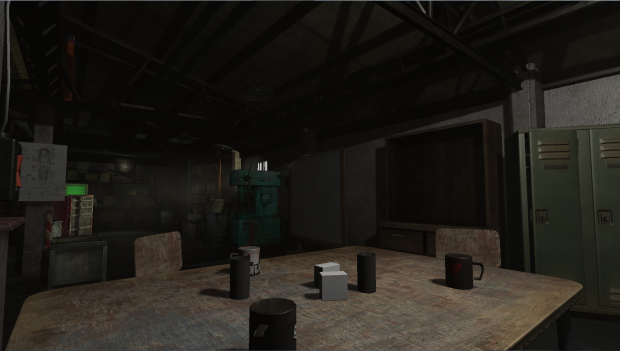 Story-Summary
The Beginning
In the Last of humanity you get the chance to witness the world boil
over. Everything starts like an average day of the week; no Zombies
to see here. At first this may actually be the case, but soon enough
unusual activities and news reports leave behind the tell-tale signs
of an impending issue.
This is the day where you get to be introduced to your surroundings, to
take on the basics of the game if you're new, and a preview of how
your character's skills related to their daily lives (such as
skills and qualifications for their current job, or a personal
interest that might have a more practical use in the Zombie
apocalypse.
Note
Just because you're suddenly more cautious and on the edge, you aren't
about to break the moral code of your character. We can't promise
that everyone will behave this way.
Day Two & Onwards
The exact nature of what's occurring isn't going to get out straight
away, you'll be warned to stay away from certain areas, maybe the
police will border off some areas. Though with a few unconventional
modes of travel (From parkour style jumps to interacting with your
surroundings, maybe even via aircraft for the well-off) You'll be
able to get in or catch a glimpse of it. You may not even have to
take the illegal route; maybe you're an assigned doctor, or a
policeman.
Note
Bare in mind these events didn't occur at random, it started somewhere
in the city, and you may even be playing in that area. And who knows
if that's a good or a bad thing?
Days Later
The public's put the pieces together, it's hard to contact emergency
services, riots, a call to arms and a call for answers. A curfew put
in place, and new rules made to be broken. Crime is on the rise, cash
is being thrown at everything. But how will your
neighbourhood
deal with this?
Some will run and leave, some will band together, some will turn on each
other like a pack of rabid dogs. But you're not going to go
anywhere; you're here to play, am I right?