---------------------------------------Starsss - Development Blog Post #33---------------------------------------
It is December! Have you felt that the weather around you is getting cooler? Yes winter is coming to us and to the world of Starsss!.
So what do you think winter would be like if it came to Starsss? Before getting to that, let's first take a look at the first and existing brick world in Starsss.
The environment of the brick world suggests that you could be within a building, or even be underground. This is made evident by the tiles on the top of the screen. On the other hand...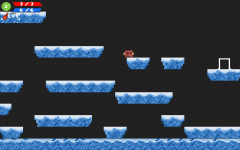 Say hello to the new ice world! In this new ice world, there are no ceilings (tiles) on the top of the screen. This suggests that you might now be somewhere above ground?
There is also a stark difference between the brick and the ice world. Take a look at what happens when you run across the floor and across platforms.
Did you notice that the floor and platforms of the ice world are really slippery? If you are not careful, you could end up taking a lot of damage from falling off platforms.
So what do you think of this new ice world?
And if you haven't heard, the next version of Starsss (v0.02 Alpha) will be arriving this coming December 12th (Friday) !
You can get the game from here when that happens or if you already own the game, you will be prompted to download the latest version upon starting the game.
Last but not least, check out today's live game development session that shows the new ice world in action! Enjoy!