Modders and gamers seeking a challenge, look no further than Starpoint Gemini Warlords and our $5000 modding competition currently in full swing. With cash prizes, hardware from ROCCAT for developers and games for fans who vote and interact, everyone has a great opportunity to win something.
FAN INSPIRED CREATIONS WELCOME
Based on feedback we have received, we have made some immediate changes to the rules and extended the deadline to accommodate new and existing modders:
Effective immediately we are opening the competition to all content, including fan inspired work. Recreate your favorite spaceship or characters and provided the work is yours - you can submit it.
As a result of the above change we won't be moderating submissions, that will be the job of the community and their votes. But in order to adhere to the DMCA, in the unlikely event we receive takedown requests - we will need to remove content requested by the copyright holder.
In order to give everyone plenty of time to get their entries in, we are extending the submission deadline until Jan 12, 2017 18:00:00 -0500. That's less than 5 weeks away... so make sure you don't miss out.
For further rules please see our launch post.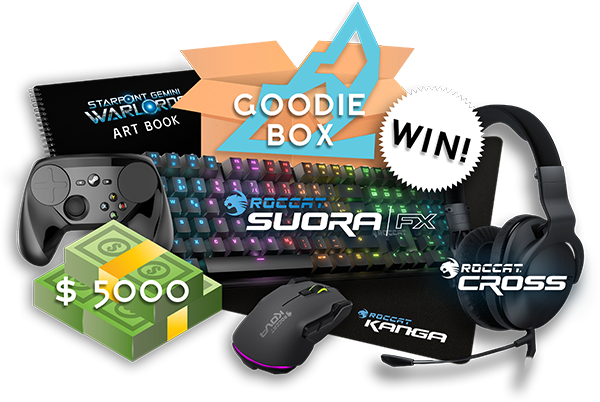 THE CHALLENGE
The challenge is to create a mod for Starpoint Gemini Warlords. You can enter the main competition with over $5000 in prizes by creating and sharing a Spaceship or Spacestation (which we are told takes a pro about 3 ~ 4 days). Or you can enter the secondary competition with over $2500 in prizes by creating and sharing any other addon like a 2D portrait, bridge voice, SFX, music or decal (which can be done in 1 ~ 2 days). We've got tutorials to help (see roundup) get you started. What you make is really up to you, but think BIG as any warlord would!
INTERESTED IN PARTICIPATING?
Awesome, you can find all the details you require in the full announcement and official competition page. Remember, the earlier you start getting your submissions in the better your chances as you can start accumulating votes for your hard work.
Thanks again to our sponsors who are making this event and the tons of awesome prizes possible for our community. We cannot wait to see and play what you create!