Dear friends of Star Wars Mod: Galactic Warfare, Season's Greetings from us!
We at blackMonkeys would like to wish every one of our visitors and friends a very Merry Christmas. We hope that you have a very fun and safe holiday with your family.
Exactly one year more of modding, mapping, drinking and scripting is basically done since the first release of Star Wars Mod: Galactic Warfare for COD4 (Xmas 2009). Today we are happy to present our v1.0b which is basically the beta version of our first "final" release. We hope you will enjoy our small Xmas gift.
The mod is a non-profit project operated by fans. Star Wars, its characters, locations, weapons and all associated items are the intellectual property of Lucasfilm. ©2009 Lucasfilm Ltd. & ™ All rights reserved.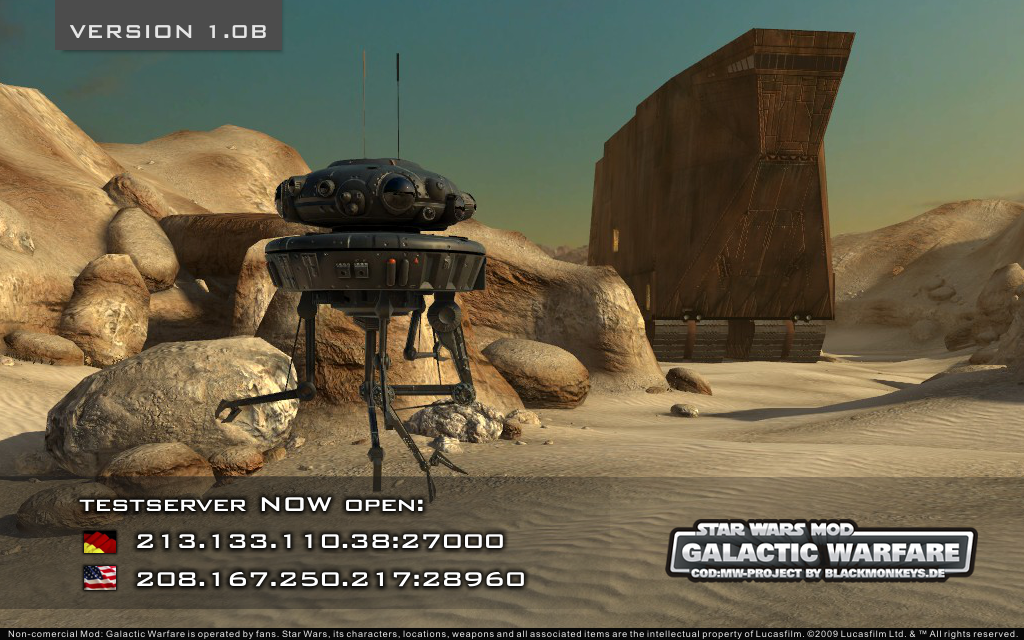 This version contains the known four maps ("Mos Eisly", "Bespin", "Bestine" and "Not A Cave") as well as two versions of the new "Jundland" . There is also a new killstreak called "viper droid". Y-Wing and Tie-Bomber are now part of the killstreak "airstrike" (finally!). We have also fixed some bugs of the gametype "Very Important Droid" (VID).
Thanks to all who supported us within the last months. We are still stunned by the enormous feedback we have received. Around 75000 downloads and more than 800000 visitors on our YouTube Channels are the backbone of our motivation to go on with the mod. A lot of your ideas and recommendations are already integrated to this release and others (e.g. for maps) might follow. A lot of players were complaining that they can not find crowded servers. Thats why we wont officially release this beta version (but of course the final one). It will just run on the following two servers:
DE: 213.133.110.38:27000 Galactic Warfare 1.0b | www.blackmonkeys.de
DE: 178.63.77.4:28960 Galactic Warfare 1.0b | HardCore | Blackmonkeys.de
USA: 208.167.250.217:28960 Galactic Warfare 1.0b | www.blackmonkeys.de
You will hopefully enjoy our new version of SWM: Galactic Warfare for the time being and we hope to see you on our server for some battle.
If you like to get more information about us and the team of SWM, you are always welcome at blackmonkeys.de. Please don't hesitate (either in English or German) to use our board if there are any questions or ideas concerning the mod.
Merry Christmas and have a very happy New Year! May the force with you!