Hi everyone again!
Before we get started I would like to briefly talk about the media (images or videos) that gets uploaded to this profile.

Someone asked me if those were "final" screenshots.
It is important for you to know that everything you see is very early footage from how the build process is going.
Even though the screenshots may look very close to what the final product will look like when completed, I always try to improve EVERYTHING and polish it to a point where it no longer requires further improvements. There's always room for polishing but as I'm alone I have to speed up this process and at some point leave an area to start polishing the next. And so the process continues.
And again, I'll never get tired of saying this, your comments DO help!
Today I would like to focus on the mod itself a bit deeper, interfaces, gameplay, science fiction.

There are no Doom 3 interfaces here. I'm going for something a bit more difficult as every interface is composed of different elements overlapping each other, creating a 3D look.
Anyone who knew this project from the start may know about THIS
Well those are resting in peace now :)
Joking aside, I'm not using them anymore, Instead I'm re-doing all GUIs from scratch fitting to THIS project.
Whoever didn't know about this before, these guis belonged to 'The Warehouse' map, the first level of the original campaign. (Please read this article if you're here for the first time)
Every interface has a purpose. Many of them are "activators" and should be interacted with by standing in front of them at a close distance.
Most commonly seen activation interfaces are the doorGuis, which will make their appereance basicaly throughout the entire campaign. (Update as of 2016, this feature is no longer in use)
The GUI processes the order and activates its door.
So apart from being activators, there are also different types such as "indicators". These are usually non-interactive and their purpose is mainly to provide information about the physical surroundings.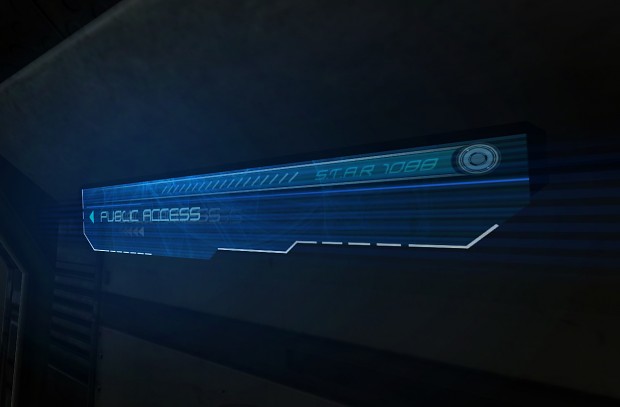 Click to enlarge
And there's another type of UI which I'd dare call "complex GUIs". These do not "indicate" anything but they don't "activate" any other thing either. Their only purpose is to provide complex information. Whether it's a text log or a message station, these interfaces will acquaint you with the story of the ship, and not that much with your physical surroundings.
---
As for gameplay and the campaign, I'm going for a horror campaign with exclusive locations, detailed environments, fresh sounds, tough enemies, puzzles and exploration. I hope I'm not failing at all this.
I have changed my mind in regards with how the shotgun and its attached flashlight behave.
Apart from what I explained above with the interfaces, I'm actually not the kind of person who likes to explain everything "pre-release", I usually like people to discover what's in there and how the world around them works when they have the product running on their own rigs. It also contributes to the "surprise factor".
However I consider it appropiate to let you know about this ->
Until yesterday the tactical light was available only when we aimed the weapon. It would not be possible to "use" or "turn on" the flashlight when the gun was idling (or in idle state for that matter).
But some people asked why would we need to aim to actually have the flashlight turned on?
Well, that question kept me thinking to be honest.
My goal was to balance things out, since you would not be allowed to run when aiming with a gun (whichever gun it is) and this would somehow encourage exploration too. But the main point was because this is meant to be a very slow paced campaign, so being able to both run & light the place up just didn't feel right for the type of mod I want.
So to avoid having to aim to actually get to the light, I made things a bit easier for us all. You can toggle your light whenever you want, there's a button for that, but when running any weapon you're holding will be holstered, giving a small speed reward yet preventing us from shooting or using any other attachment. Again, the shotgun is the only weapon with this capability.
I'm doing all that I can to keep the gameplay fair and well balanced - This doesn't mean it's not going to be hard, mind you :)
---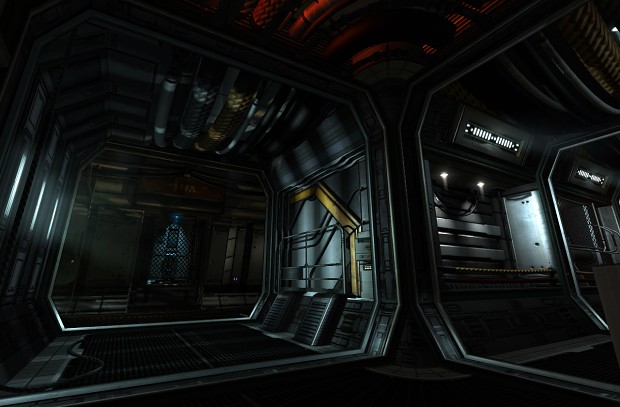 This mod somehow represents the classic sci-fi scenario: Far future, a spaceship, horror, bits of action.
Yet I thought I could turn this more to the cinematic, more-close-to-realism side.
So the first thing one is going to think of is gravity. How is gravity provided aboard a spaceship? How is it provided aboard THIS spaceship in particular?
Well, I really don't want to say much, but there is going to be something generating weight aboard.
There's also something that cannot go unnoticed. If we happened to go to space without proper suits, and imaginining we would not die for the lack of oxygen and our body collapsing, we would still die by the massive ammount of radiation. So, how is the ship being protected against it? Well, then again I'm afraid I'll have to let all of you try it yourself and figure it out while playing. Nothing will remain unexplained in the end, but nothing is going to be explained DIRECTLY to you.
People, there's still a long way to go. In the meanwhile I'll keep updating the page, replying to any questions you may have, and as always if you would like to give me a hand with anything you may consider you can, it is always welcome :)

Last but not least, I would like to thank Kyle_K_ski, a member from this site, who has given me very valuable advice for the project, such as the way gravity is "generated" aboard, amongst many other precious ideas worthy of a very good writer.
Thank you very much.
I hope you like what you see, give me some feedback if you have a few seconds, and as always spread the word!
Thank you all for reading!