S.T.A.L.K.E.R. Call of Pripyat: Redux
Conversation Contest Results + Twitter Info
---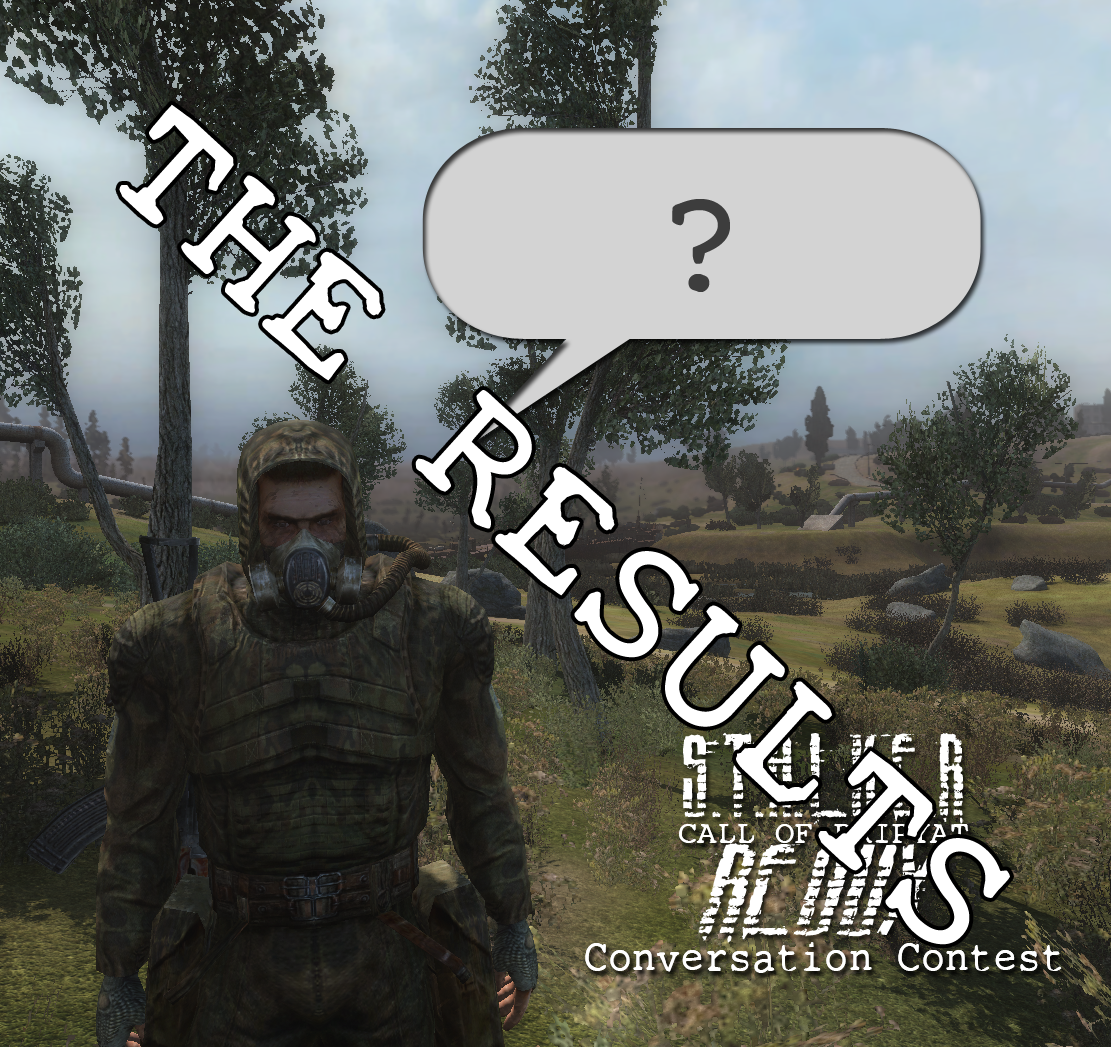 ---
The Conversation Contest is over, and the judging has finished!
The following three winners all impressed me with their dedication, story-writing talent, and managed to appeal to my personal tastes! (Lucky guys!)
However, if you didn't win, don't fret - you may have been a runner-up, and will also receive a beta key! (I'm just that kind!) Read on to find out more info...
---
So, without further ado, the winner of first prize is:
Paravin!
Congratulations, friend! Your numerous stories were well written and interesting, the stories of Sasha and the woman gunned-down by the Military especially really hit me - some really great stuff there, keep up the writing buddy!
Second prize goes to:
Sgt. Makarov!
Congratulations to you too! Once again, loads of entries, with a couple of real jewels in there (the stories of the old man that helped out the rookie stalker and Wayfarer's tale were especially good!). Also, good job somehow appealing to my love for Ecologists and Mercs (it borders on obsessive sometimes!)
Finally, last but not least, third prize goes to:

Buddie!
Congratulations! Though only submitting one story, Buddie managed to sub-consciously tap into my brain and discover my bro-love for Doctor Kruglov, and gave me a great tale on his exploits since the time of Shadow of Chernobyl... Good job, nice writing!
And so, there it is - the winners! Congratulations and thank-you, you deserve the v1.0 closed beta keys you'll be receiving, as well as immortalisation in the mod through inclusion of a name of your choice as an NPC name (e-mail me!) and your story included in v1.0. Once again, congratulations.
---
Those of you who didn't win, don't start bawling yet! Maybe you won one of the super-secret runner up prizes!
You guys win v1.0 beta keys, and your stories guaranteed to be included in Redux v1.0!
The runners-up, in no particular order, are:
---
Squee63 for his story of the man who gave up a life of mystery-solving with a certain dog and van to become a S.T.A.L.K.E.R!
Dark Kite for his story of a mysterious artifact said to hold power over the Zone and its creations, with mutants rushing to the wielder's defence and the power to move anomalies...
C-Zom for his story on the Origin of Life, a dark tale with some seriously good writing!
Calle for his PDA-story telling the tale of a bloodsucker ambush of a man and his squad in the Jupiter Factory...
HotSake for his three stories, including a little gem involving a shortage of toilet-paper in the Zone...
Congratulations to the runners-up!
---
Finally, a huge thank-you to everyone who entered - over thirty entries were received, and it was a great success in my humble opinion. Apologies if you're disappointed, but the standard was really high! - Don't be entirely disheartened though, keep asking those STALKERS for stories and you might just find you snuck in there...
---

This time on the Misc Corner, the Redux Twitter feed is revived, Nimble gets new merchandise and S.T.A.L.K.E.R.s start to carry more stuff...
1: Follow development on Twitter! With at least-once-daily updates from now on, get a behind the scenes look at Redux development, and what I'm working on at the time! Follow @CoPRedux today, and feel free to ask questions! Expect a Twitter Q+A Session in the future!
2: Nimble is getting new merchandise! It seems that his suppliers have mysteriously vanished, and new ones magically appeared, bringing new goods!
3: Finally, ever wondered at the lack of stuff S.T.A.L.K.E.R.s carry around? I did too - but not any more! S.T.A.L.K.E.R.s now carry around the items you think they would, all with detailed descriptions for added immersion. You can sell them, too!
---
That's all for this news post ladies and gents! Thanks once more to everyone who entered the contest, and make sure to follow me on Twitter!
Until next time, good hunting!
- Beacon
Creator of Call of Pripyat: Redux