---
After weeks of hard work, I'm very proud to announce that Redux is now available for Open Beta testing!
'The latest installment of the Redux series of S.T.A.L.K.E.R mods, CoP: Redux aims to redefine your S.T.A.L.K.E.R experience both graphically and gameplay-wise, adding realism, danger, fun and more interest to the Zone we all love.'
---
Redux v0.8 contains almost all of the features that will be in the v1.0 release, but may contain bugs, errors or imbalances. I am releasing this version of the mod in the hope that you will help me to find these problems, so that I can fix them.
Many people see Beta releases as a slightly buggy, unfinished version of the final product and don't bother themselves with leaving feedback and comments - an integral part of the testing stage.
I ask that you do leave feedback on the official forums, enabling me to more quickly and efficiently address any issues that crop up.
Please specifically leave feedback on these topics especially:
Combat - Damage of weapons, overall feel of battles and how fun they are.
Artifact rarity, value and effects.
Item drop rates and rarity, as well as effects.
Hunger and food.
Economy - weapon, item, artifact, ammo prices etc. This one is important.
Remember that Redux is a realism mod, and is thus supposed to be a lot harder than the Vanilla game. If you're dying in a couple of shots, that's intended. Keep this in mind when leaving feedback.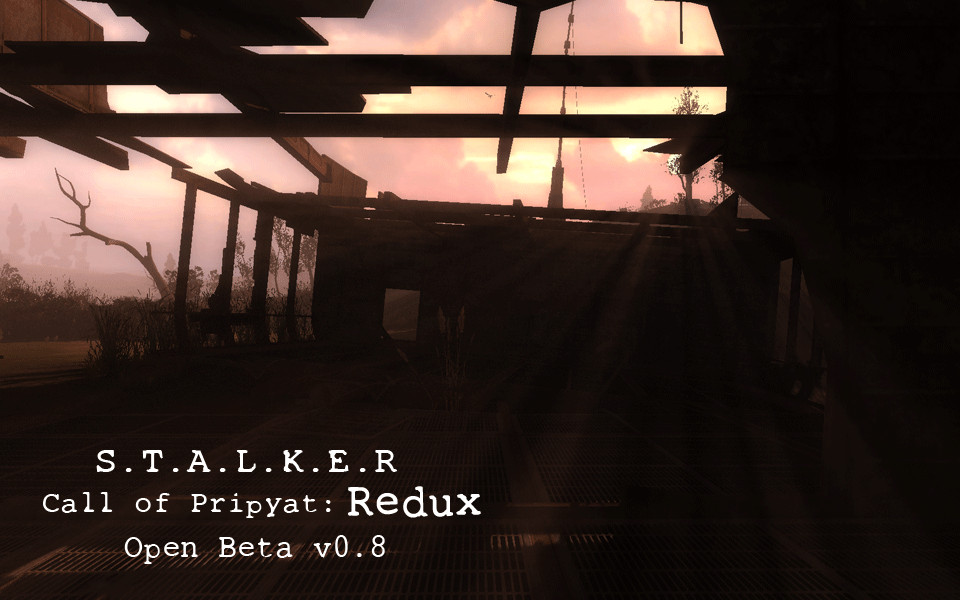 Click the image to go to the download page. Please read the read-me file enclosed with the download, as it contains installation instructions necessary to ensure that you get the best experience you can.
---
Sneak Peak: What's coming in v1.0?
This is just the start, in v1.0 you can expect:
Better tuning of the economy and item values.
Drop rate tuning.
Level changers between zones.
Stash modification, and brand new stashes.
Entirely new places to sleep or hide from blowouts.
Brand new outfits.
And more...
And that's the end of this news post - go download the mod and get to testing, S.T.A.L.K.E.R!
Enjoy!
- Beacon
Creator of S.T.A.L.K.E.R. Call of Pripyat: Redux
---