The Brain Zombie is a favorite on the team, both because it's so damn weird and also because it makes for some really cool game play ideas. So we're excited to spotlight our flagship boss zombie!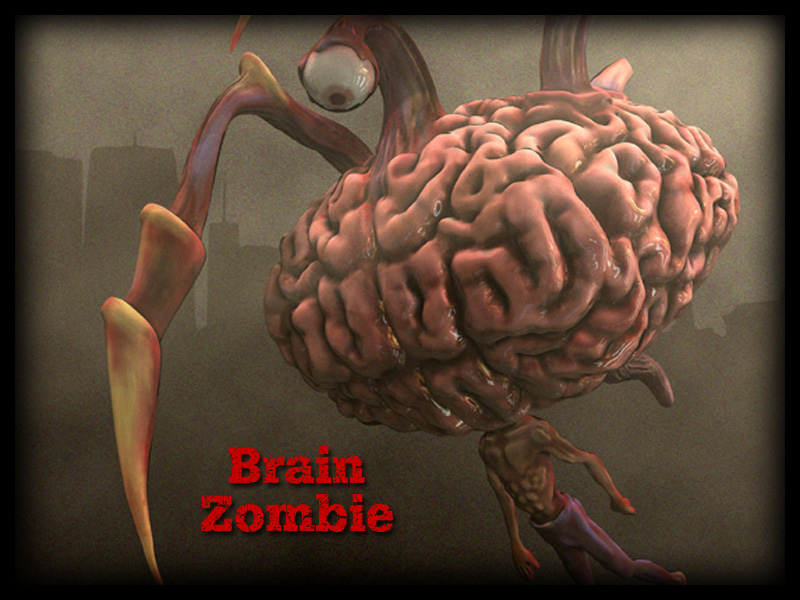 Family Portrait: Big Daddy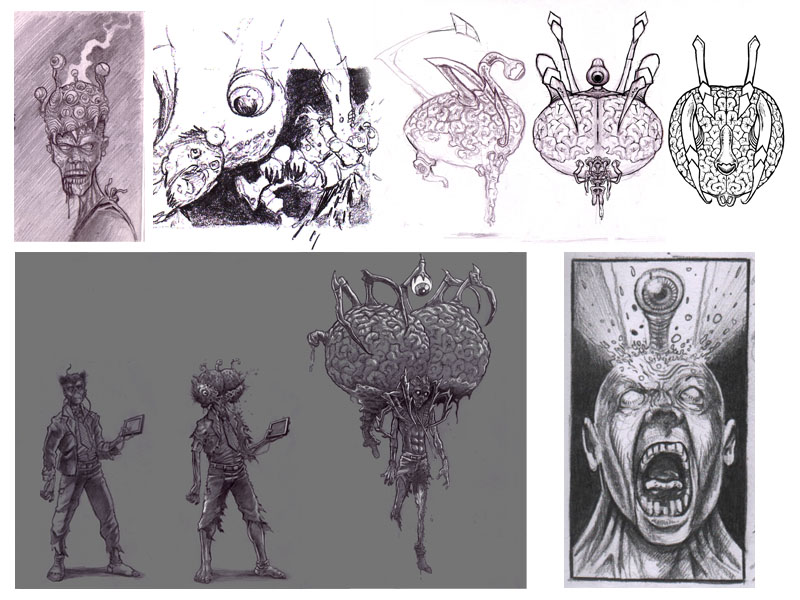 Evolution of a boss zombie, Part 3
Name: Brain Zombie
Height: 15 ft (eye level at average float height)
Weight: 700+ lbs
Attacks: Brain Blast, ???
Preferring to lead from behind, the Brain Zombie can strike at a distance by channeling interdimensional chaos energy through its one giant eyeball - enveloping any living object in a cocoon of searing, debilitating agony. And those spikes looks nasty, too - are they just for show, or are they fast enough and powerful enough to be capable of impaling even armored opponents?
Special Ability: Mind Control
The pinnacle of undead special abilities, Mind Control allows the Brain Zombie to take direct control of a live human target for a limited amount of time. Control is achieved through the victim's subconscious mind, providing access to basic weapon controls and simple speech abilities. Other meat sacks will remain blissfully unaware, giving you the opportunity to sneak past enemy lines or make use of some of that delightful human weaponry. But the best part? Mind Control leaves the victim's conscious mind fully aware of the atrocities they commit against their fellow humans. Having been under the control of a Brain Zombie can have lasting effects on a human's state of mind, even if they survive the ordeal and are not put down like rabid dogs by their fellow meatsacks. The experience is generally devastating to morale, and can sometimes leave even squad leaders reduced to the functional level of newbie recruits, unable to provide any morale boost to their squad mates.
Detail:
Brain Zombies clearly exist in direct defiance of the natural laws of the meatsack reality, and as such represent the furthest incursion to date of Dimension Z into the Earth Conception. As such, they are to be treated with great care, protected as the treasures they are - and are only available to the most experienced of overlords. Massing significantly more than the measly five grunt zombies required for the mutation, a Brain Zombie mutation requires large amounts of collected Chaos energy to initiate, and actually creates a semi-permanent and mobile connection directly through to the home dimension. Use this power effectively, and dominion will be ours!