Hello dear gamers! We're back with the latest news. On this week we've continued to work on the assault game mode, decorations and graphical user interface which does require a lot of work yet. However, the end is near, so we have to make a hard decision. What kind of icon will we use, to be our representative, to be our symbol?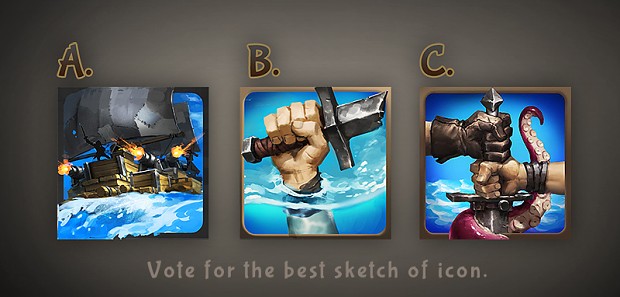 As we see our project come to end,
I think the four of us understand,
that we gotta make a game. Gotta make it great.
It's our very first one. It must annihilate.
Since we drew three sketches, we need to choose.
We need to fill the void. We need a symbol.
But it's gotta fit right. Gotta be the right one.
But without you it can't be done!
So, we made three sketches, from you can choose the right one, the one that fits our game the best in your opinion. Every vote is important because we are making this game for you! Why would you let us to do it as we want instead of voting and customising this game to your very taste? So do not hesitate! Choose the best sketch, so we can finalise it (by pouring more awesomeness on it), then the game receives it as its official icon.
So

vote

for the best in the comments BELOW

---- OR ----

Check out our official

voting page www.splashblades.com

, to vote between awesome circumstances. Last, but not least, please support us by sharing the link to your friends.



New image of a pirate ship: