SPIRAL GAME STUDIOS @ EUROGAMER 2010

We just finished up at EuroGamer 2010 and had an absolute blast. There were tons of awesome people, tons of awesome accents and tons of awesome games - and do I love me some games. I had the opportunity to try out quite a few of them but if you had to ask what my Game of the Show was it would definitely be the multiplayer component of Assassin's Creed: Brotherhood - that was addicting like you wouldn't believe and it felt extremely natural - so BUY IT!
However - let's move back to our focus and our game - we are here to share with you a whole bunch of information and secrets regarding the development of 'ORION: Prelude'.
NEW GAME MODE ANNOUNCED FOR ORION: PRELUDE -
COOPERATIVE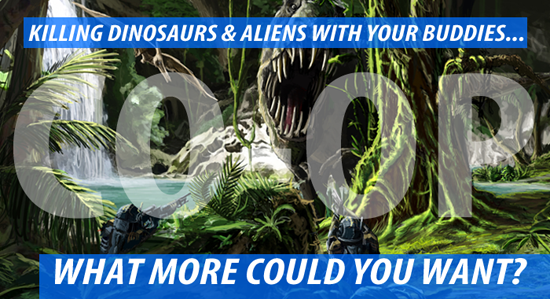 We are happy to announce an extremely exciting game mode for 'ORION: Prelude' - Cooperative mode. While we can't talk TOO many details about this new mode yet - you can rest assured that you will get to play a variety of missions with your buddies and take on hordes of Dinosaurs and waves of Aliens.
4 player support.
5 Missions at launch -structured maps at launch.
All of the core features of 'ORION: Prelude' will be utilized - including the items and abilities, vehicles and anything else you could possibly use in the competitive game modes.
Guaranteed awesomeness.
As you know, 'ORION: Prelude' is a multiplayer-only title. However, with the addition of this new Co-Op game mode it allows us to tap into the mentality of a structured singleplayer component. We will be designing exclusive maps (missions) for this mode and they will be structured in a way where a story and multiple objectives are outlined.
ORION: PRELUDE - EUROGAMER 2010 TECHNOLOGY DEMONSTRATION
We have also put together an exciting new technology demonstration for all you fans. This technology demonstration was created specifically for EuroGamer 2010. This technology demonstration had evolved from the one that was created from PAX Seattle 2010. It used the same exact environment and was completely updated in that 30 days of time.
You will get to see a much more beautiful environment as well as more dinosaur and character interaction. We do want to stress, however, that this is still considered pre-alpha technology and will only get better.
You can expect an "Extended Cut" of this Trailer in the next couple of weeks. Many of the scenes weren't able to make the deadline for EuroGamer - so expect to see more footage of the Dinosaurs and Characters.
We will be gearing up to make the official Teaser Trailer over the next couple of months (alongside the game build) and hope to premier it at GDC 2011 or E3 2011. We will be able to release more details about this as we draw closer.
EUROGAMER MUSIC TRACK - DOWNLOAD NOW!
Our awesome and superhuman music composer, Marcus Zuhr, has created an exclusive music track just for EuroGamer. This track is the Carriers Theme Song (the humans in the game) and is completely bad ass and amazing.
DOWNLOAD TRACK:
Orion-project.net
We hope you enjoy all of this and we look forward to hearing your thoughts. Make sure to visit us on our various networks and register on our forums for extended access to otherwise secret things:
SGS YouTube:
Youtube.com
SGS FaceBook:
Facebook.com
SGS Twitter:
Twitter.com
SGS Forums:
Orion-project.net
That is all we can talk about for now - so until next time!
Love,
Developers @ Spiral Game Studios
Spiralgamestudios.com