If your not familiar with the amazing indie title, Space Engineers its, basically a space based sandbox with tons of modding support, in game programming, a welcoming community and now access to the holy grail of modding tools, the games source code!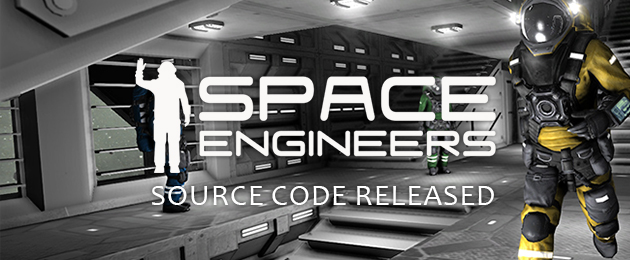 Marek Rosa CEO Stated. "Modders can now develop the same way Keen Software House developers do (this however does not mean we will stop working on the game).
There are very few game studios that have ever done this, probably none during their early access period. It's an experiment that someone has to try, and the chances that it will be beneficial for the future of Space Engineers is high and worth taking the risk."
Its also important to note, These new type of mods can't be uploaded on Steam Workshop (unlike ModAPI mods) because of security risks. We are assuming that modders will find ways to share their mods with players. Server side mods will be installed on servers by server administrators, so it's not necessary to distribute them to clients.
What kind of mods can be made? Workshop mods: Nothing changes for workshop mods, except modders who wants to get involved in ModAPI improvement now have a chance.
Total conversion mods: These mods can ignore the limits of ModAPI and modify anything in the game. Because we're unable to guarantee security, these mods can't be uploaded to Steam Workshop and must be distributed in a different way. Games like Counter-Strike, DOTA and DayZ were created in similar fashion.
When an author of a total conversion mod wants to release his mod on Steam (as a standalone game or Space Engineers DLC/mod) we'd be happy to help him with that. Contact us: info@keenswh.com
Standalone games: if you decide that modding is not for you and you want to build a brand new game based on Space Engineers' and/or VRAGE source code and assets, don't hesitate to contact us: info@keenswh.com
If your needing a place to host your Space Engineers mod, look no further.

Not satisfied with just giving out the games source code, Keen software are also giving away money to prospective developers looking at capitalizing on the new source code access!
Marek wrote: $100,000 fund
To support our modding community even more, we reserved $100,000 of our own money as a fund for modders who want to build total conversion mods based on Space Engineers or VRAGE engine.
We're considering several ways how this fund could work: grants with no strings attached (see how Epic does it with UDK - Unrealengine.com), zero interest loans and Kickstarter support. We can provide PR, marketing and promotion on our social media.
Why are we doing this? We believe that our VRAGE engine is unique in certain aspects and it would be great to see what other people can create with it. VRAGE supports fully dynamic and volumetric environments where players can build and destroy everything around; our game world is unlimited in size and can be procedurally generated. More info about VRAGE: Keenswh.com
Who are we looking for? Anyone who's interested in our technology and wants to create game or total conversion using VRAGE engine or Space Engineers. We're looking for people who are enthusiastic about the same things as we are; game development, sandbox games, destructible environments and unlimited gameplay experience.
You can read the full release on Marek's Blog.