Thank you so much for the support. We never expected such an amazing response and we're so happy for the lovely feedback we've been getting on the many aspects of Space Chef.
We're thrilled that the many in-game goodies have been so popular and more than 60 of you have chosen to back us on the Alpha tier, meaning you'll get to play Space Chef as early as the start of 2022. We can't wait to hear what you think about it!
So what's next for the campaign? We know a lot of you have been asking about this. Therefore we are delighted to present our first stretch goal. The ... *drumroll* … Alien Creature Farm!
Stretch goal #1 - Alien Creature Farm!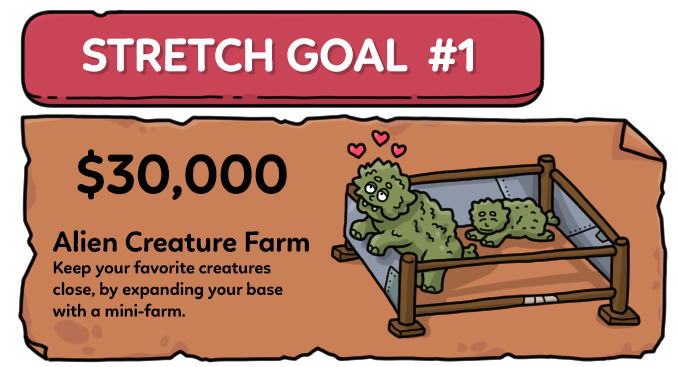 With the Alien Creature Farm, you'll get your ingredients locally produced. Feed them with their favorite food and watch them thrive. If you treat them right, there might even be a cute little baby alien waking you up in the morning.
Many creatures will provide you with a source of valuable ingredients, like Broccoloid Sprouts, Shello Jello or Graffle Eggs. But… don't even try to domesticate the Gnibbit!

Many have failed to domesticate the mischievous Gnibbit!
We're looking forward to race together with you to this stretch goal and we have several exciting stretch goals lined up after that.
Thank you again for all the support we've been getting. We can't wait to see what the next 27 days will bring!
Keep grillin'
Niclas and Tobias, BlueGooGames
PS: If you wanna hang out with us and chat with other Space Chef fans, you're welcome to Join our Discord Community!
The Broccoloid is a peaceful creature.