Ok... I know everyone loves to see piccies, so here are a few of the weapons we are in process of modelling for The Russian Front. The two attached are some quick samplers of the weaponry to be found in the mod - enjoy !
The standard Soviet Maxim Heavy Machinegun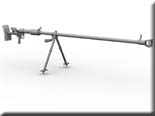 And the classic PTRD anti-tank gun... let us know what you think. More over on our website !