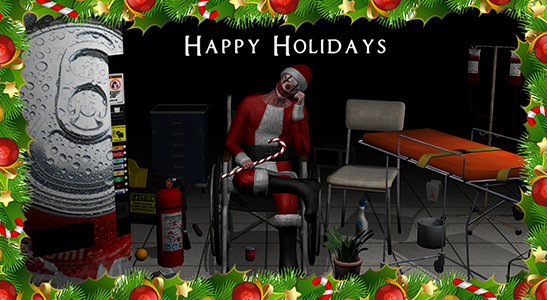 New features :
You can now set multiple seekers for a map.
Changed health system.
Seekers now don't hear heartbeats by default.
Seekers have a new ability to hear heartbeats in a radius.
Added SilenceHeartbeat skill to hiders.
Added Santa Clown skin.
Players can now kill themselves by using the command /killself.
Updates:
Changed the way the heartbeat system works.
DropHeartbeat skill changed to SilenceHeartbeat.
Players who fall through the map will commit suicide.
Bug Fixes :
Players can now update their name in game.
Fixed camera bug where camera falls on ground on round start.
Fixed bug where players jumped after getting out of ragdoll mode.
Fixed bug where multi shot would hit props multiple times in one hit.
No more flying hospital beds.
No more wallclimbing wheelchairs.
Kitchen rack now has health/mass.
Note : If the patcher is stuck while downloading, restarting the game most of the time fixes that issue. If it for some reason doesn't want to work at all, we suggest downloading the lastest version on our site : www.soulhuntgame.com . We are still balancing out the new changes and will be seen in upcoming smaller updates.