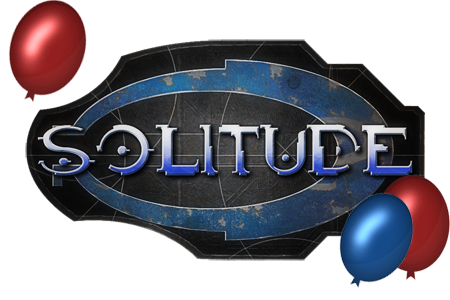 Welcome to Solitude's 24th Update, and Solitudes Birthday!
Over the last three months many have worried about Solitude's state, going from weekly updates, to suddenly stopping for three months has certainly been a worry and there's been quite a scare.
---
haloman100 May 3 2009, 7:36pm says:
i lost hope in this game.its been 33 days for the delay.i meen come on who cares what we want to see in the update just show us the new models of characters guns and the multiplayer modes and maybe an overview of the game and tell us about baker.i not tring to be mean im just pointing it out
z.franz Jul 16 2009, 12:09pm says:
I have a bad feeling about this..
Korpikarhu0 Jul 25 2009, 3:08pm says:
Now seriously whats wrong with the project? Its been over three months since last update so tell us if there really is something wrong. Then i'll stop whining
---
Many comments like these have been made and many people have started believing it. "This game is DEAD" has been posted way to many times. But, on August 4th, 2009, Solitude and the Flaming Ice team turned one. This is a great milestone for any Indie game/team. To celebrate Solitude's and the team's birthday, over the next 3 days we will be releasing 3 updates. For now, lets focus on this article!
Is this game dead ? I think not, lets jump straight into the rather large collection of images, hopefully this will convince you guys that we're still kicking!
---
I'd like to take this chance to wish our great Spanish animator/modeler a Happy Birthday,
Happy Birthday ilDucci!
Note: On this site, his account is
VGF
, start spamming it with your birthday greetings!

We've recently added two new members to the Flaming Ice team.
First off we've got a new Mapper/Modeler, Faparith. He's already contributed a good amount, working on 2-3 maps while also modeling a Hunter. Here's a look at his work so far.
Secondly we've got a new Engine Coder, TeamXlink. He's already added a number of features to the engine, and is currently working on a NAT fix so the multiplayer beta will be online.
Here's a little list of things we're hoping to have or already have :-
Advanced Bot support
Halflife map support
Vehical support
Coloured lighting
Advanced Rotating Brush support
Alpha mapping
Network Code
Online lobby
HUD
Slayer mode
Team Slayer mode
Capture The Flag mode
Oddball mode
Survival mode
Lets end this update with a video made by Scifiknux to celebrate our one year anniversery.
Thanks for Supporting us this last year, we sure hope you contiune supporting this little team for the years to come. Its been a blast!
Flaming Ice out