Solitude, ModDB's only PSP Indie game presents its 22 Update.
Its been awhile since our last update, but never fear, this update is going to make up for the lack of updates in March. We'll be showing you all sort's of things, from weapon textures to an early look at some of our maps. But before I start, I'd like to remind everybody that didn't see our last article (A great article written by NinjaDave form the Indie Dev group, a great read if you want to know more about Solitude. Moddb.com ) that the multiplayer Solitude Beta has been delayed, I would like to take this chance to apologize for the inconvenience of this delay. I'll explain what happened.
Around December, I was having talks with a great engine coder (Baker) about him joining the Flaming Ice team. Shortly after he was introduced, Avirox (One of the best QC coders around) asked to join the team as the QC coder (Game logic), at this point progress was moving swift and fast. We had two coders for two different fields. Most of the key elements were finished by mid January, the team were very confident we could get a beta out in a couple of months. We set ourselves the target of releasing the public beta no later then March, March 31st was chosen as it gave us extra time to polish up our existing content.
Last month contact was cut from Baker, recently he's stopped by the forums to explain why he couldn't work on the engine and may still not be able to for another 4-6 weeks. He is having real life problems, and as we all know, real life always comes first. Due to the uncontrollable circumstances, we had no choice but to delay the public release of the beta. There is no ETA set at the moment for the release of the beta, all we can do is hope that baker's Personal problems go away soon.
It's not all bad news, due to the delay, there will be a ton more content featured in the public beta as we have more time to work on things. In the coming weeks you will be seeing a lot more content in the updates.
The Flaming Ice Team would like to apologize for the inconvenience of this delay.
---
Few, now that that's out of the way we can continue with this update !
Dandi8 has been working on finishing up a few textures, here they are.
NOTE: The spartan texture was only edited a bit by Dandi, PsychotropicPineapples is the creator of the spartan texture.
Scifiknux has been working on a map, Suicidal Temptations (Thanks Noddie for the great name !) Here's an early look, most of the brush work is complete, all we are waiting now are to get some textures on this bad boy !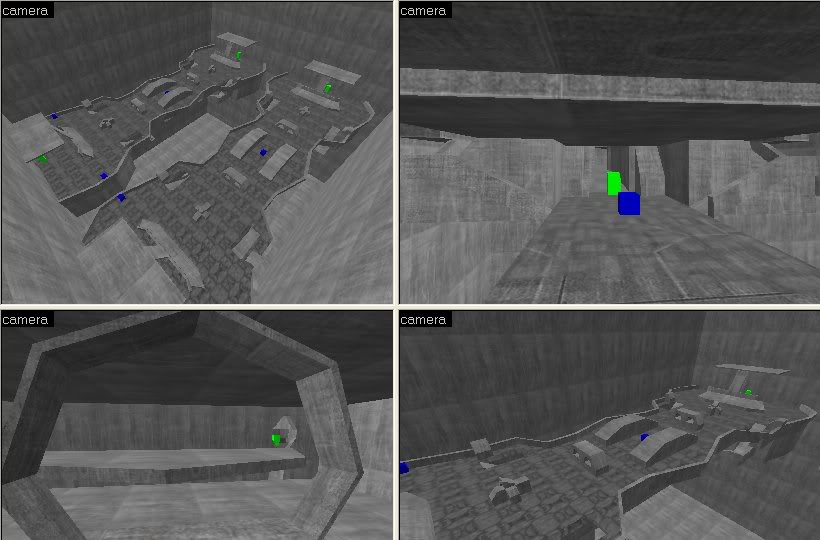 The ring in the 3rd view is a place holder for a holographic Halo ring.
---
Hopefully I'll be able to continue with the usual once a week update, but for now that's it. Thanks for reading!
-SamUK
Project leader